Bears linebacker Lance Briggs has been ruled out of Sunday's road game against the Falcons with a rib injury he sustained in last weekend's loss to the Panthers in Carolina.
A seven-time Pro Bowler, Briggs leads the Bears with 44 tackles. He also has recorded 1.5 tackles-for-loss, one quarterback pressure, one interception and one pass breakup this season.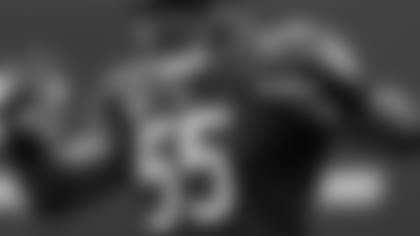 Lance Briggs will sit out his eighth game in the past two seasons Sunday after missing only three games during his first 10 years with the Bears.
"You've got a guy who has played a lot of great football, done a lot of great things in this league," said linebacker Jonathan Bostic. "Not having him out there is definitely going to be a big task to be able to get over. But you've got to be able to move in and get through this one."
Briggs isn't the Bears' only injured linebacker. Shea McClellin will miss his fourth straight game with a hand injury. Bostic sat out practice all week and is questionable with a back injury he sustained against the Panthers. And veteran D.J. Williams (neck) is probable.
The only healthy linebackers on the Bears' roster are Khaseem Greene, Christian Jones and Darryl Sharpton. Greene is the most experienced of the three, having appeared in 18 NFL games. But the 2013 fourth-round pick from Rutgers has been inconsistent.
"He's fluctuated," said coach Marc Trestman. "He's had some great weeks where he's practiced very well and then it's tapered off. [But] he's made a big push. He stayed with it. He's worked extremely hard on the special teams' side of it, working his way back into things."
Greene appeared in 15 games with four starts last season as a rookie, recording 39.5 tackles and one interception that he returned 49 yards against the Vikings.
"Khaseem is a very smart guy in terms of knowing what to do, where to be," Trestman said. "He's made play when he's played for us. He did it last year against Minnesota. He made a key play. We found him to be that kind of guy, and that's the way he was in college, too. He was a playmaker, a difference-making guy there. So we feel good about that."
Bostic's availability against the Falcons may not be decided until shortly before kickoff Sunday.
"We've got 48 hours," Trestman said. "So we'll see where that is as we move along. But he's certainly a very smart guy. He knows the defense. He knows how to line up and where to go. We'll see where he's at. We'll use the trainers and the doctors to help us with that decision certainly."
Last season the Bears defense struggled mightily after being decimated by injuries. A year later, the unit appears to be better equipped to deal with those types of issues.   
"[Defensive coordinator] Mel [Tucker] and the guys have done a great job of training these guys," Trestman said. "They start early in the morning. They work all day.
"We made a priority this year to constantly work at the development of our players throughout the weeks, throughout the days. I think we've done a very good job. We're confident in those guys that they can go in and do the job."
In other injury news, tackle Jermon Bushrod (knee/ankle), safety Ahmad Dixon (hamstring) and guard/center Taylor Boggs (hamstring) are out; cornerback Sherrick McManis (quad/knee) is questionable; and defensive tackle Jeremiah Ratliff (concussion), safety Chris Conte (concussion) and center Roberto Garza (ankle) are probable.
For the Falcons, receiver/return specialist Devin Hester (hamstring) and guard Justin Blalock (back) are questionable; and safety Kemal Ishmael (ankle), receiver Julio Jones (ankle), tackle Jake Matthews (ankle) and linebacker Prince Shembo (knee) are probable.