While Bears coach Marc Trestman expects quarterback Jay Cutler to start Sunday in Cleveland pending a workout Wednesday, the news isn't as positive about linebacker Lance Briggs.
The seven-time Pro Bowler has been sidelined since fracturing his shoulder Oct. 20 in a loss to the Redskins and has not yet returned to practice seven-and-a-half weeks later.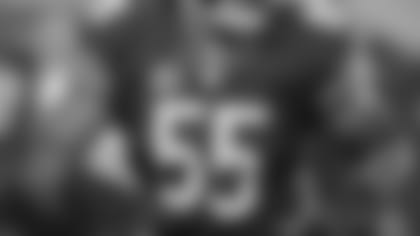 Lance Briggs led the Bears in several stat categories at the time of his injury.
"I'm not optimistic," Trestman said Wednesday. "Lance is still week-to-week. We'll see where he is tomorrow with our trainers and see what they want to do with him.
"He did some running last week. Will that be upgraded to some limited work in practice? We won't be in pads tomorrow, we'll be in shells. But he was not in shells last week. It's just the healing of the bone and where that is right now."
The Bears defense has struggled mightily without Briggs, especially against the run. After yielding an average of 102 yards on the ground over the first six games this season, that figure has doubled over the past seven contests to an average of 204 yards.
"Lance is a playmaker in the run game and the passing game," said defensive coordinator Mel Tucker. "It's not just the intangibles that he brings in terms of leadership and experience and things like that, in confidence. But he can actually make plays. He can win one-on-one. He can get off blocks. He can run sideline-to-sideline. He can win one-on-one on running backs on blitzes.
"In the pass game he's quick, very instinctive. Because of his experience, there are not a whole lot of plays he hasn't seen at some point in time, so he's quick to recognize those things."
At the time of his injury, Briggs topped the Bears defense with 64 tackles and nine tackles-for-loss and was tied for the lead with two sacks and two forced fumbles.
The drop-off from Briggs to rookie Khaseem Greene has been glaring at times, but Tucker feels that the fourth-round pick is improving and will continue to do so as he gains more experience.
"I think he's progressing," Tucker said. "He's playing more and he's seeing more plays live and he's getting closer and closer to making more plays. He does show up in the games and he does make some plays. There are more plays that he can make and we feel like he'll make those plays when presented those opportunities. But it's a work in progress."
Briggs isn't the only veteran missing from the defense. The unit has also lost cornerback Charles Tillman, defensive tackles Henry Melton and Nate Collins, and middle linebacker D.J. Williams to injuries. As a result, the Bears have been forced to employ a slew of inexperienced replacements.
"We've spent a lot of weeks talking about [run] fits and making sure we get this group of guys where they need to be," Tucker said. "We're to the point now where we are pretty much where we need to be. Now, it's about finishing. We have to be stouter in our gaps and we have to shed blocks better, and then we have to tackle."
The veteran defensive coordinator would also like to see more of a swarming mentality.
"We have to get more guys to the ball because football is not a game of perfect," Tucker said. "The more guys you can get to the ball, the more population, the better defense you're going to have. You get guys to the ball by shedding blocks, so that's going to be a big point of emphasis for us this week."