Lance Briggs said Thursday that he's proud of his Bears teammates who were voted to the Pro Bowl and didn't complain about getting snubbed from the annual all-star game.
Leading the Bears with 118 tackles and having returned two interceptions for touchdowns this season, Briggs seemingly deserved to make an eighth straight trip to the Pro Bowl.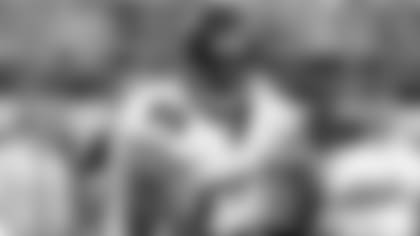 Lance Briggs has returned two interceptions for touchdowns this season.
But while Briggs plays in a 4-3 defense, the three outside linebackers who were voted onto the NFC team are all premier pass rushers in 3-4 schemes: the 49ers' Aldon Smith (19.5 sacks), the Cowboys' DeMarcus Ware (11.5) and the Packers' Clay Matthews (12).

"It's one of those things," Briggs told reporters. "There weren't any traditional outside linebackers in the Pro Bowl. That's just the way it goes. It's a vote."

Five Bears were selected to the Pro Bowl: Cornerbacks Tim Jennings and Charles Tillman, defensive end Julius Peppers, defensive tackle Henry Melton and receiver Brandon Marshall.

"I'm proud of them," Briggs said. "Everybody that got voted into the Pro Bowl is deserving. It's a real treat to be able to play next to those guys."

Award winner: Peppers was selected NFC defensive player of the week after recording three sacks in last Sunday's 28-13 win over the Cardinals in Arizona.

"He just plays big," said defensive coordinator Rod Marinelli. "He's a special player. Sometimes you'll come out of a game and you're [thinking], 'Well, he's had this many plays or tackles,' and then you watch the film and you go, 'Whoa.'

"Every week it's powerful what he does. It commands respect. When you add a few other rushers in there for him and he can get a single, he's special."

In increasing his season total to a team-leading 11.5 sacks, Peppers has become the first Bears player to reach double figures in back-to-back years since Rosevelt Colvin in 2001-02.

Health news: Middle linebacker Brian Urlacher (hamstring), safety Chris Conte (hamstring), running back Armando Allen (knee) and linebacker Blake Costanzo (calf) did not practice Thursday as the Bears continued to prepare for Sunday's must-win game in Detroit.

Melton (chest), Tillman (ribs/elbow) and running back Matt Forte (ankle) were limited.

Coach Lovie Smith said that the Bears will need Melton against a Lions offense that leads the NFL in passing yards and ranks second in total yards.

"Every pass rusher that we have on our team against a group like this we'll need," Smith said. "Hopefully he'll be able to go."

Smith said that Forte is making a lot of progress and looked good while taking limited practice reps.

"We're hopeful for him, which we thought all along," said the Bears coach. "I know he's been pretty optimistic about playing, so hopefully that will be the case."

War of words: It came as no surprise Thursday when Lions veteran center Dominic Raiola responded to the comments that Melton had made about him a day earlier.

In labeling the Lions a dirty team Wednesday, Melton said that Raiola is "old and he just talks. ... He'll throw some cheap shots in there and then he'll say some bad words."

The Detroit Free Press reported that when Raiola was asked for his response, he said: "Who? Who? Exactly. You got a defense full of superstars, and you don't hear from the guys that carry weight in my book. Urlacher, Briggs, Tillman, [Israel] Idonije, older guys, Peppers, the guys that have been there.

"We're talking about guys who carry weight. This guy? Not in my book. It's tiresome, especially from a guy like this, a guy that didn't even play the past two weeks. I don't know what to say anymore. In my book, he's a clown."