Playing in his first game with the Bears last Sunday in place of the injured Zach Miller, tight end Daniel Brown scored his first NFL touchdown on a 7-yard pass from Matt Barkley.
"When your number's called, you always want to be ready," said Brown, who had three receptions for 24 yards in a 27-21 loss to the Tennessee Titans. "I think I have a good opportunity in front of me and I want to take it and run with it."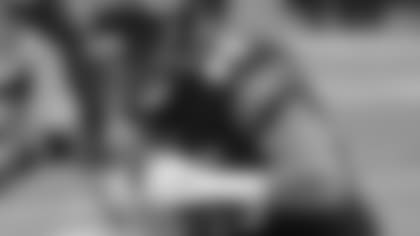 Tight end Daniel Brown scored his first NFL touchdown on a 7-yard pass from Matt Barkley.


Claimed by the Bears off waivers from the Baltimore Ravens Oct. 24, Brown was inactive for three games before playing against the Titans. With Miller out for the rest of the season with a broken foot, Brown figures to continue to get more chances to prove himself.
"We thought he's a guy that has a skill set probably closet to Zach at this point to plug and play," said offensive coordinator Dowell Loggains. "He did a nice job; helped out on third down, helped us in the red area. He's played receiver before and he's more of a pass-catching tight end."
Brown entered the NFL with the Ravens in 2015 as an undrafted free agent wide receiver out of James Madison. He caught six passes for 64 yards as a rookie wideout with Baltimore before being switched to tight end this past offseason.
Despite his pass-catching background, the 6-5, 243-pounder wants to show the Bears that he's an all-around tight end.
"I want to prove to them that I can be a versatile tight end that can do the run and the pass," Brown said. "I take pride in that. That's why I spend so much time with Logan [Paulsen] and Ben [Braunecker] after practice, working on run game steps and pass pro because the pass game comes natural to me. I want to be a versatile tight end that can do anything the coaches ask me to do."
Injury update: Six Bears players are listed as questionable for Sunday's game against the 49ers. Two of them, receiver Eddie Royal (toe) and outside linebacker Willie Young (knee), did not practice Friday. The other four were limited: left guard Josh Sitton (ankle), outside linebacker Leonard Floyd (concussion), cornerback Deiondre Hall (ankle) and safety Adrian Amos (foot).
Building character: Cutler is set to become the 16th Bears player on injured reserve this season. The group includes key starters at right guard (Kyle Long), tight end (Miller), receiver (Kevin White), center (Hroniss Grasu), outside linebacker (Lamarr Houston), inside linebacker (Danny Trevathan) and cornerback (Kyle Fuller).
"We just know the hand that we've been dealt thus far," Young said. "We've got a lot of guys down. Can't make excuses for that. No one cares because you are only as good as you record says you are/. We've been battling, from A-to-Z, we've been battling.
"I really feel that this year, with all of the young guys that we have, and even guys coming from winning organizations who are not familiar with dealing with adversity, I really think it's going to help and build us as a team in the future."
Strong protection: Barkley threw 54 passes last Sunday against the Titans without being sacked.
"I thought we protected pretty well," said coach John Fox. "We didn't play as well at the tackle position the week before against the Giants. I think getting [right tackle] Bobby Massie back in there was a little bit of a help. All-in-all, we protected better. Some of it was Matt's doing and some of it was our protection."
Happy for them: Two former coordinators under Fox are doing well as NFL head coaches—Jack Del Rio has the Raiders in first place in the AFC West with a 9-2 record, while Adam Gase has led the Dolphins to six straight wins and a 7-4 mark.
"It's always great to see friends and the guys you've been in battles with with them on your team do well," Fox said. "I'm happy for both of them. Mike McCoy out in San Diego, they're making a decent run. They've had their share of injuries and what-not. All those guys you take pride in."