Alex Brown will end his pro football career the same way he started it: as a member of the Chicago Bears.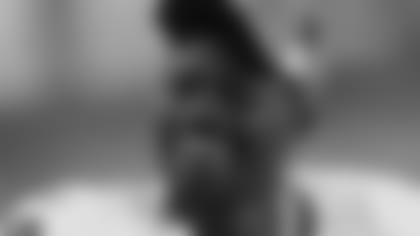 Defensive end Alex Brown had fun playing eight seasons with the Bears.
The veteran defensive end signed a one-day contract with the team Wednesday and will officially retire from the NFL Thursday, when he's honored before the preseason opener against the Broncos.

Brown played his first eight seasons with the Bears from 2002-09 before joining the Saints for one year in 2010.

"It's special for me and my family," Brown told ChicagoBears.com. "I would have loved to have finished my career in Chicago, but being able to come back and retire as a Bear, I don't think I could have written the story any better. It's a great thing and it's a very special moment."

After arriving as a fourth-round draft pick from Florida in 2002, Brown appeared in every regular season game in his career beginning with the second contest of his rookie season, a streak of 143 consecutive games. He started all 16 games in six of his eight seasons with the Bears.

Brown was a complete defensive end, excelling against both the pass and the run. His 43½ career sacks as a member of the Bears are the fourth most in franchise history and his five interceptions rank second all-time by a Bears defensive lineman, trailing only Hall of Famer Richard Dent, who had eight.

"It's about making plays and that's what I tried to do," Brown said. "It wasn't necessarily all about sacks for me. As far as being a complete all-around player, I looked up to [former Giants star] Michael Strahan, a great all-around defensive end and I wanted to be like him."

Brown, who is now working in business development for Coyote Logistics in Chicago, is excited about the opportunity to retire as a member of the Bears.

"This is the team that gave me my opportunity to fulfill the dream that I had ever since I was a small child," he said. "They gave me an opportunity and I came out and played as hard as I could for them each and every weekend. I gave it everything I had. I have no regrets when it comes to football.

"I thank the McCaskey family, coach [Lovie] Smith and everybody that had anything to do with making this possible. I'm indebted to them forever." [ ](http://www.phoenix.edu/campus-locations/il.html?utmsource=Story&utmmedium=instory&utmcampaign=300x100)
Asked how he would like Bears fans to remember him, Brown said: "When the ball was snapped, he played as hard as he could and he had fun doing it.
"I had fun. I really enjoyed my career. It was still a game for me, a game that I played when I was a little kid. I dreamed about playing in a stadium full of people and it came to fruition."