One of the worst experiences of Alex Brown's life turned out pretty good for the Bears.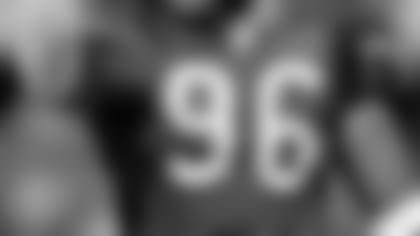 Alex Brown helped the Bears win two NFC North titles and one conference crown.
Entering the 2002 NFL Draft as Florida's all-time sack leader, Brown expected to be selected late in the first round or early in the second. But when the first day of the draft concluded after three rounds, Brown was still on the board, shocked that he remained a man without a team.  
The next morning, the Bears grabbed Brown with the sixth pick in the fourth round, two spots after his Florida teammate, kicker Jeff Chandler, had been chosen by the 49ers.
The Bears made a smart decision in selecting Brown. A complete defensive end who appeared in 127 games with 107 starts over eight seasons, he recorded 483 tackles and 43.5 sacks, fourth best in franchise history behind Richard Dent (124.5) Steve McMichael (92.5) and Dan Hampton (57).
In a recent story in The Gainesville Sun, Brown is ranked as the fourth best draft steal in Florida history. In the article, he talks about how he cried when he went undrafted on the first day.
"I couldn't sleep," Brown told the newspaper. "It was a tough day. I was so hurt. I didn't get what I didn't do right. It still bothers me. I had been told all my life that what you do on the field is what matters. Then I found out it was about the Combine."
](http://www.gainesville.com/article/20130425/columnists/130429765?p=1&tc=pg)