With Kobe Bryant playing his final game Wednesday night after 20 seasons with the Los Angeles Lakers, we reflect on two illustrious Bears careers that ended in memorable fashion.
Best for last
Linebacker Doug Buffone's 186th and final regular-season game with the Bears on Dec. 16, 1979 at Soldier Field was also one of his most unforgettable.
Linebacker Doug Buffone's final home game was December 16, 1979.


Entering the last day of the regular season, the Bears needed a win over the Cardinals and a Cowboys victory over the Redskins by a combined total of 33 points to earn a wildcard berth.
The Bears had a more realistic chance of making the playoffs by capturing the NFC Central title with a win over the Cardinals coupled with a Buccaneers loss to the Chiefs.
After storming to a 21-0 halftime lead, the Bears headed to their locker room, where they found out that the Buccaneers had clinched the division crown with a 3-0 win in a monsoon in Tampa.
Opening up and emptying their playbook, the Bears employed reverses, a flea flicker, a fake field goal and a fake punt in cruising to a 42-6 victory on a snow-covered surface.
The Bears had done their part, but their playoff hopes appeared dim at best a few hours later when the Redskins took a 34-21 lead over the Cowboys late in their game at Texas Stadium.
But the Cowboys rallied for a stunning 35-34 victory as quarterback Roger Staubach threw two touchdown passes in the final 2:20, catapulting the Bears into the playoffs.
"Our mood was confident because we felt 100 percent certain we'd do all that was possible for us to do, and we did," Buffone said after the game. "We took charge, and when it became obvious we needed big points, we got the points.
"I don't deny, though, that I had an empty feeling—way inside—when I dressed, real empty, because I'd been a Bear so long and suddenly was looking at the end."
Buffone made two huge plays in the win, dragging down the Cardinals' Lee Nelson at the Bears' 11 after a 77-yard punt return and catching a 22-yard pass from Bob Parsons on a fake punt, the only reception of Buffone's 14-year NFL career.
"It won't change my mind about retiring, but it's a great way to go out," Buffone said after the game. "It was a game a linebacker dreams about. Besides pulling off a tackle that surprised the devil out of me, I caught that pass. What a great way to end a career."
For the love of Mike
Thirteen years later, another star linebacker went out with a bang, when a dismal Bears team delivered its best performance of the season in Mike Singletary's final home game.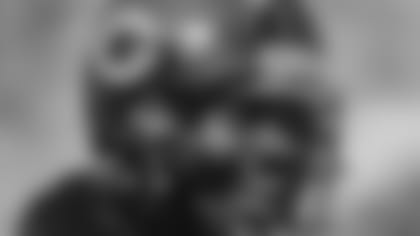 Star linebacker Mike Singletary's final home game was December 13, 1992.


Determined to send Singletary off with a victory, the Bears thrashed the AFC Central champion Steelers 30-6 at Soldier Field on Dec. 13, 1992. It was the only win the Bears recorded in the final nine games of what turned out to be Mike Ditka's final season as coach.
"I don't even dream that good," Singletary said after the game. "It was a very humbling experience, to have the opportunity to go out and play with so many guys that you love, and to have the opportunity to turn the tide and made a difference. That's what we did, and we did it together."
The Bears limited the Steelers to 140 total yards and generated five takeaways and five sacks in snapping a six-game losing streak.
"It shows you what emotion can do," Ditka said after the game. "This is a game of emotion. Our guys wanted to do the best they could for Mike Singletary.
"I've been around and I don't know if I have ever seen a defense play more aggressively. We didn't have to do that much [offensively] because our defense played outstandingly."
Steve McMichael registered two sacks, and Richard Dent, William Perry and Chris Zorich all had one apiece. Shaun Gayle and Donnell Woolford both had interceptions.
"We showed [the defense] a film of Mike last night and some of the plays he has made throughout his career," Ditka said after the game. "It affected them. They saw the way he played and the way he hit. At least they went out and tried to do it and it worked, I guess."