Bears third-round draft pick Jonathan Bullard believes that the key to contributing as a rookie has more to do with digesting the playbook than anything else.
"That's what I'm doing right now," said the defensive lineman from Florida. "I get a little extra time with [defensive line] coach [Jay] Rodgers on learning what to do so I can start playing faster. That's going to be the main thing for me right now is just learning to know what to do so I can play at the level that they want me to."
Bullard excelled at Florida, appearing in 50 games with 36 starts over four seasons and registering 178 tackles, 33.5 tackles-for-loss and 12 sacks.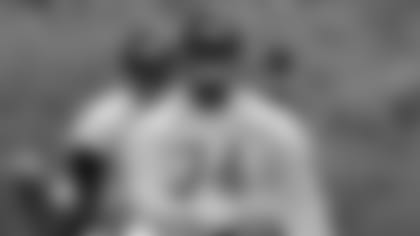 Bears defensive lineman Jonathan Bullard registered 178 tackles, 33.5 tackles-for-loss and 12 sacks in his career at Florida.


The 6-3, 285-pounder started his career in Gainesville at end, moved to tackle late in his sophomore season, and opened his junior year back at end before switching to tackle late in the season. As a senior, Bullard played two games at end and 12 at tackle, setting career highs with 66 tackles, 17.5 tackles-for-loss and 6.5 sacks.
The Bears envision Bullard as a defensive end in their base 3-4 scheme who is capable of moving inside to the three-technique position in passing situations.
Bullard considers his "get-off" and play recognition his top strengths as a player.
"I think I do a good job at reading offensive linemen," he said, "kind of knowing what they're saying, kind of learning that throughout the game and getting the upper hand where I can shoot gaps and kind of expect blocks."
Bullard learned some important nuances about exploding out of his stance as a Florida freshman by watching upperclassman Dominique Easley.
"He had the fastest get-off I had ever seen," Bullard said. "Freshman year, that's who I was behind, so I just watched what he did and saw how much it helped him and I just picked up from it and it kind of stuck with me."
Bullard has focused on making a good first impression with the Bears since he began participating in the team's offseason program earlier this week.
"I think it's really important, especially when I got here Monday and I was with the vets a little bit," Bullard said. "That definitely was something that I wanted to do to show that I belong here. I also want to earn their respect and show them that if I do get the chance to be in there with them that they can depend on me."