Third-round draft pick Jonathan Bullard has made major strides during the course of the Bears offseason program, which concludes next week with a mandatory minicamp.
"I'm starting to play a lot faster, make more plays, understanding the scheme of the defense a little better," said the defensive lineman from Florida. "Just being out there getting reps, you can learn it in the classroom, but when you [get actual reps] you get a better hang of it."
Bullard has had to make some adjustments from how he played defensive end at Florida, changing his stance while also reading and diagnosing his keys rather than just immediately shooting a gap.
"In college it was just pin your ears back and I'd go," Bullard said. "But now it's a little more reading and a little more not just getting up the field creating vertical lanes and seams, so that's something I've got to work on."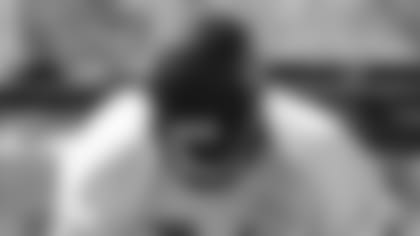 The Bears selected defensive lineman Jonathan Bullard with the 72nd pick in the draft.


Bears defensive line coach Jay Rodgers wants Bullard to play within the defense and limit his risk-taking while learning the nuances of the scheme.
Said Bullard: "Coach just told me, 'Slow down a little bit. Just learn what you're doing before you start taking those chances and those risks and eventually when you understand it and you know the blocking schemes and things, then you can go back out and take them,' because they don't want to take that from me."
Bullard feels that he's better equipped to succeed in the NFL after returning to Florida for his senior season. He considered entering last year's draft, but remained with the Gators after receiving a "stay in school" grade from the league advisory committee.
Making the most of his final year at Florida, Bullard set career highs last season with 66 tackles, 17.5 tackles-for-loss and 6.5 sacks.
"I think I matured in a lot of ways," Bullard said. "Being the guy at Florida on the defensive line, it kind of helped me understand what they look for when you're trying to be a leader. We've got some guys here that I'm following and still learning from. But I think it really helped me tremendously."
Bullard credits his position coach at Florida last year, Chris Rumph, with "helping me understand more about the game and not just putting my hand down and playing and using my natural ability."
Looking to build on that knowledge, Bullard is eager to make an impact as a Bears rookie.
"I think when I get it down pat I can bring some disruption," he said. "Getting off the ball is my thing. Sometimes it can be bad if you create some holes, but at the same time it allows my teammates to make plays off of it, maybe taking two guys or something.
"I'm going to help on special teams right away hopefully. Right now my mindset is I want to play, but anyway I can help us. Hopefully throughout [training camp] I start making my way up and helping a little more."
Bullard feels that he's joining a Bears defense that's comprised of "a lot of guys with a lot of talent."
"I'm just coming in trying to learn a little bit from all of them," he said. "I've got my game and that's why I got here, so I'm not going to change my game. But at the same time, they've been here. They've got the knowledge. So I just listen to them and try to learn little things that I can add to what I already do to make me better.
"It's a good group of guys. They work hard every day. They push each other. Everybody listens to each other and communicates well, so that's always a plus."