BOURBONNAIS, Ill. – Bears starting left tackle Jermon Bushrod exited Monday's training camp practice with a right calf strain, but the injury is not believed to be serious.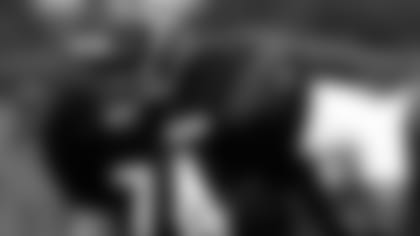 Left tackle Jermon Bushrod signed with the Bears in March after spending his first six NFL seasons with the New Orleans Saints.
"I tweaked it a little bit," said the two-time Pro Bowler, whose status is listed as day-to-day. "It's nothing too crazy. I'm just going to rest it and see how it's feeling in the next couple days."
Speaking to reporters outside the players' lunch room, Bushrod said the protective boot he was wearing on his foot "is just precautionary to take some of the stress off of it a little bit."
Bushrod was replaced at left tackle in practice by Jonathan Scott, an eight-year NFL veteran who started five of the Bears' final six games at right tackle last season.
"This is one of the most violent games in America, and in the world," Scott said. "Things like that happen. You've just got to step in and play. One thing that has always been emphasized to me is that everyone has to play as a starter. At the moment, Bushrod is a little banged up. Coach had the confidence to put me in and I believe I met his requirements."
Bears coach Marc Trestman knows that injuries will occur during the season and reserves like Scott must be ready to step on the field and contribute, sometimes at a moment's notice.
"It's a challenge that we are going to have during the season because people are going to go down during the week of a game," Trestman said. "Things do happen. Somebody else has got to step up during the week and play, and that's the positive.
"It's a shock to the player that's next up that he's got to be ready to play and understand that you may not have three or four days. It may be in the next 10 minutes and they've got to be ready to step in because everybody is counting on him."
Not as fortunate as Bushrod, defensive end Tank McBride was lost for the season early in practice when he ruptured his Achilles' tendon. McBride signed with the Bears in March after spending his first six NFL seasons with the Chiefs (2007-08), Lions (2009-10) and Saints (2011-12).
"We're real sad," Trestman said. "That's a tough one. He has worked so hard, probably as high effort a guy as we have on this team on a daily basis, since the spring. That's really disappointing. We're really disappointed for him."
McBride's injury further thinned out a defensive end position that was already missing Cheta Ozougwu, who sat out Monday's workout with a slight hamstring strain and is day-to-day.
Given the day off Monday, receiver Brandon Marshall is expected to be back in action Wednesday when the Bears return to the practice field following an off day Tuesday.
"Brandon had three very good days of practice," Trestman said. "He had a very good day [Sunday] and we decided we're going to give him a two-day rest. He should be back and ready to go on Wednesday."
With Marshall unavailable, first-year receiver Joe Anderson made the most of some additional reps, leaping high to catch a touchdown pass from Jay Cutler to cap a two-minute drill.
"When Joe Anderson's out there because Brandon is down, he's competing against our top players and that gives him a chance to prove his value," Trestman said. "That's what training camp is all about. And so the positive and the negative when Brandon has to stay out a day is somebody has to step in and make the play."
After Anderson's TD grab early in practice, the Bears' defensive backs dominated. Charles Tillman broke up three passes, Zackary Bowman knocked away a deep underthrown ball intended for Devin Aromashodu, Major Wright broke up a pass along the sideline and Chris Conte dove to bat away a deep Cutler pass intended for Earl Bennett down the right sideline.
"It was pretty nice, but I should have intercepted it," Conte said. "Always room for improvement, right?"
That no doubt is how Mel Tucker feels, but the Bears defensive coordinator was pleased to see so many different players break up passes Monday.
"When we do have success out there it feels good to see," Tucker said. "The guys feed on takeaways, they feed on getting hands on balls. The pass rush makes everything else work. But it's back and forth. The offense is doing a great job. They're giving us a lot of different looks and it's very competitive, so I think our guys are having fun with that."