After spending the past three seasons with the Bears, veteran left tackle Jermon Bushrod isn't sure whether he'll return to the team in 2016.
Bushrod started the first three games this season before sustaining a concussion and shoulder injury in a loss to the Seahawks. When he was cleared to play a few weeks later, the Bears opted to stick with his replacement, second-year pro Charles Leno Jr. Jr.
"It's tough," Bushrod said recently. "I've grown close to the guys here. I love this organization and everything it is about. We don't know how it's going to shake out, but we'll see how the future works out. But either way, I'm appreciative of my time here. I've cherished my time here.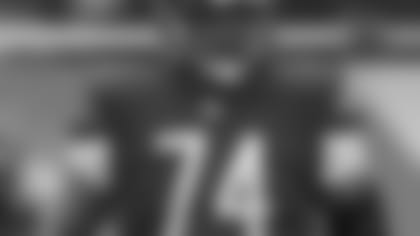 Veteran left tackle Jermon Bushrod isn't sure whether he'll return to the team in 2016.


"I've worked hard, and that's all you can do. This year was tough for me physically, mentally and emotionally a little bit, but with the right people around me we got through it."
A highly-respected team leader, Bushrod never complained about his lack of playing time. Instead, the nine-year NFL veteran helped mentor Leno and the Bears' other young offensive linemen.
"There just comes a certain point and time where the business side of this game will catch up to you," Bushrod said. "Sometimes you might get put in situations you don't like or you don't agree with. But at the end of the day, I was once in the same situation. I dealt with the same stuff. I had to take over when an older guy went down.
"In this league, if you're fortunate enough to be a veteran—someone that these guys look up to—you have to pay it forward. But you have to keep working. That's the thing about this league, that's the thing about me. I fought to compete. I just want to let people to know that I competed all the time and I worked. Although I was frustrated, we worked. All we want to do is win because winning just makes you feel that much better. If you're not in, if somebody else is, you help them out to the best of your ability. Winning just makes you feel better. I see that in the future for this team, and we'll see how it all works out."
While Bushrod never won back his starting left tackle position, offensive coordinator Adam Gase utilized the 6-5, 320-pounder as an eligible sixth lineman during the second half of the season, a role ironically that Leno filled in 2014 when Bushrod was the starter.
"I'm fortunate that Gase gave me the opportunity to do a little extra, the big tight end," Bushrod said. "For someone like me, it kept me motivated. This sport motivates me, but to have the opportunity to go and contribute, that means a lot. It really means a lot to me."
Bushrod was selected by the New Orleans Saints in the fourth round of the 2007 draft out of Towson. He anchored the Saints' offensive line during their Super Bowl-winning season in 2009, started 54 straight games from 2009-12 and was voted to back-to-back Pro Bowls in 2011 and 2012.
Bushrod, who still has two years left on his contract, is motivated to continue his career in 2016 with the Bears or elsewhere.
"Do I want to keep playing? Absolutely," said the 31-year-old. "I feel like over the year I felt better. I can say that [the season finale] was the best I felt in a long time. Honestly, I've been feeling good. I just haven't been able to really put it together like I've wanted to.
"You just like to be a part [of the team]; win, lose or draw you want to be a part. You want to hang your hat on what you go out there and do. That's my mindset that I'm going to use going forward throughout this thing and I think it's going to buy me another year or two in this league."