Given last week's national debate about whether the Bears should stick with Josh McCown, Jermon Bushrod wasn't surprised that Jay Cutler felt pressure Sunday in Cleveland.
"That's just him being human and realizing that Josh did play great," said the veteran left tackle.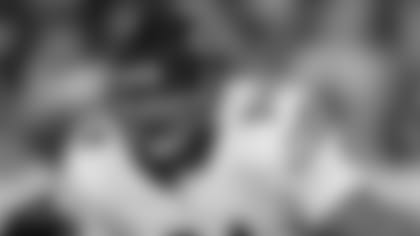 Tackle Jermon Bushrod and the Bears are in sole possession of first place in the NFC North.
Bushrod was pleased with not only how Cutler overcame adversity after throwing two first-half interceptions but how all the parties involved dealt with the potentially sticky situation.
"The good thing is [coach Marc] Trestman was a man of his word when he said that when Jay was 100 percent he was getting his job back," Bushrod said.
"Josh did a great job of understanding that and Jay understood that, and he didn't push it. He wanted to make sure he was completely healthy when he came back. It was great to see our guy back out there, and we're just going to try to keep this thing rolling."
Cutler rebounded from a shaky start to throw three touchdown passes, which helped turn a 24-17 deficit into a 38-31 win. The victory, coupled with the Lions' 18-16 loss to the Ravens Monday night, catapulted the Bears (8-6) into sole possession of first place in the NFC North.
Some outside Halas Hall wondered why the Bears were giving the keys to the offense back to Cutler, who had missed four games with a high ankle sprain. McCown had excelled in his absence, passing for 1,809 yards with 13 TDs, 1 interception and a 109.8 passer rating in seven games.
Trestman's plan all along was to reinstall Cutler as the starter when he was healthy, and the Bears coach stuck with that even though McCown was named NFC offensive player of the week after throwing for four touchdowns and running for a fifth in a win over the Cowboys.
"Trestman] is just a man of his word," Bushrod said. "He said he was going to do something and it didn't make a difference how the situation with Josh turned out. Josh got our offense going and helped put us in the position that we are in. Jay came back in and he just stepped up. He got things rolling. We hit a little adversity, but that's what the game of football is.
"When you have two quarterbacks that prepare the way that they do and an offensive coordinator and head coach and quarterbacks coach that put in an amount of work, and you can have two quarterbacks like that-there's no drop-off-that's pretty exciting stuff."
The Bears were aware of the quarterback debate swirling around them, but they didn't let it distract them from concentrating on the task at hand against the Browns.
"When it comes to blocking out the noise, we addressed it as a team," Bushrod said. "We knew the media reports. We knew things that were going on. We understood that. But we didn't focus on it.
"If you're focusing on things around the team and what everybody else is saying, it takes away from what you're trying to get done in-house. If we're worrying about what's going on and who's talking about what or doing this in what situation, it takes away from the preparation that we have. I just think we did a good job of keeping our eyes forward and keeping our eyes on the prize."
Cutler was so aware of the noise that he spoke to several key members of the offense, such as receiver Brandon Marshall, running back Matt Forte and center Roberto Garza, to make sure they had no problem with him returning to replace McCown.
"Of course we welcomed him back with open arms," Bushrod said. "We understand the type of competitor he is, the heart he has for this game, the love he has for this game. It was exciting for him to go out there and get a win and be as productive as he was."
Roster move: The Bears on Tuesday waived first-year safety Sean Cattouse, who appeared in one game after spending the first eight weeks of the season on the team's practice squad.