Bears left tackle Jermon Bushrod has been selected to the 2013 USA Football All-Fundamentals Team, which honors NFL players who exhibit exemplary techniques for youth players to emulate.
The fifth annual team recognizes 26 NFL players—11 on offense, 11 on defense and four on special teams—who employ proper technique, particularly when blocking and tackling, which fosters better on-field performance and inherent safety benefits.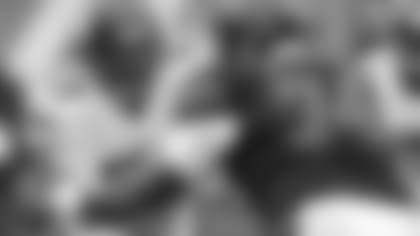 Bears left tackle Jermon Bushrod blocks Vikings defensive end Jared Allen in a Week 2 game.
USA Football notes that despite Bushrod's size and powerful build, the 6-5, 320-pounder "keeps a low pad level to gain leverage on defenders" and also "maintains balance to counter quicker pass rushers and uses proper hand placement to control defenders."
Bushrod signed with the Bears last March as a free agent and started all 16 games. He was part of a revamped offensive line that helped the Bears rank second in the NFL with 445 points and set franchise records with 6,109 total yards, 4,450 passing yards, 32 passing touchdowns and 344 first downs.
Each player chosen for the All-Fundamentals Team will receive a $1,500 equipment grant from USA Football to donate to the youth or high school football program of his choice. USA Football, the sport's national governing body in the United States, is the official youth football development partner of the Bears, the NFL and each of the league's other 31 teams.
A fan vote will determine All-Fundamentals Team captains at www.facebook.com/usafootball. Fans may vote through Jan. 29 for one captain on offense, defense and special teams. USA Football will award each of the three captains a $3,000 equipment grant to donate and an All-Fundamentals Team helmet trophy.
USA Football has educated more than 110,000 youth football coaches in all 50 states and Washington, D.C., through its online courses and single-day coaching clinics. Approximately three million American children ages 6-14 play organized tackle football, placing it among the country's most popular youth sports.
The All-Fundamentals Team was assembled with guidance from former NFL coach Herm Edwards, former NFL executives Carl Peterson and Bill Polian, former NFL running back Merril Hoge and television analyst Charles Davis.