After the Bears started the same five offensive linemen in all 16 games last year, injuries are forcing them to shuffle players in and out of the lineup early this season.
With left tackle Jermon Bushrod on Friday being ruled out of Sunday's game against the Panthers with knee and ankle injuries, the Bears will start their third different line combination in five weeks.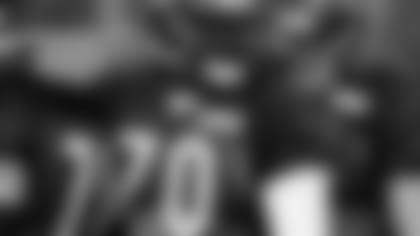 Rookie lineman Michael Ola is expected to make his fourth straight start Sunday.
Coach Marc Trestman said Friday that if left guard Matt Slauson can return from his ankle injury, Michael Ola will start at left tackle in place of Bushrod. Ola has lined up at left guard since Slauson was injured in the first half of the season opener against the Bills.
Slauson practiced without limitations Friday and was listed as questionable on the injury report, meaning there's a 50 percent chance he'll play.
"If Matt is back, we'll be able to move [Ola] out to the tackle position," said coach Marc Trestman. "We'll just have to see how things are [Saturday] morning because that's when you find out whether soreness or swelling come up. But we're encouraged by today."
Bushrod, who was injured during Wednesday's practice when a teammate rolled up the back of his leg, has made 74 consecutive starts dating back to 2009 when he was with the Saints. He told reporters Friday that the injury will not require surgery and is "nothing crazy."
"It's just something that I have to deal with," Bushrod said. "One day at a time. Certain people deal with things a certain way. I just have to deal with the day-to-day and seeing if I can't get it feeling good every single day. That's my goal. That's my plan. I'm going to be out here as soon as I can.
"Our goals are still right there in front of us, and I want to be a part of the success that we have. But right now I have to deal with this so I can get back out there as soon as possible."
Bushrod's potential replacement is Ola, an NFL rookie who played for Trestman with the Montreal Alouettes in the Canadian Football League. The 6-4, 312-pounder got reps at left tackle this summer during training camp and the preseason.
"It's a different position, so you definitely have to prepare," Ola said. "Technique-wise has to be a lot better. It's just different adjusting to the tackle position as opposed to guard. You definitely have to key into the match-ups of who you're going to."
Asked if left tackle is a more important position than guard because it requires protecting quarterback Jay Cutler's blindside, Ola said: "You definitely don't want to be that guy who gets Jay hit or I will be back to flipping burgers or something."
Center Roberto Garza, who has been sidelined since suffering an ankle injury in the season opener, practiced on a limited basis Friday and is doubtful for Sunday's game, meaning there's only a 25 percent chance he'll play. That means that veteran replacement Brian de la Puente likely will make his fourth straight start.
On the other side of the ball, Bears defensive tackle Jeremiah Ratliff (concussion), linebacker Shea McClellin (hand) and safety Ahmad Dixon (hamstring) have been ruled out of Sunday's contest.
There is good news on the injury front, however, as defensive end Jared Allen is expected to return after recovering from a bout with pneumonia that caused him to miss last Sunday's loss to the Packers. Allen practiced without restrictions Friday and was listed as probable.
It's unclear how much Allen will play. The 11-year veteran lost 15 pounds while he was sick.
"We've really got to see where Jared's at," Trestman said. "He looks like he's gained a lot of energy this week. His energy's been high. Hopefully the loss of weight won't debilitate him too much in the game, but we'll just see how it goes. It's good to have him back. He's certainly practiced during the week and  he's going to play. That's a good thing for all of us."