Jermon Bushrod played on a record-breaking offense and was voted to two Pro Bowls during six seasons with the Saints. But there's another accomplishment on his resume that's just as important to the Bears.
In his first year as a full-time NFL starter in 2009, the left tackle who signed with the Bears Tuesday on the first day of free agency helped lead New Orleans to its first Super Bowl title.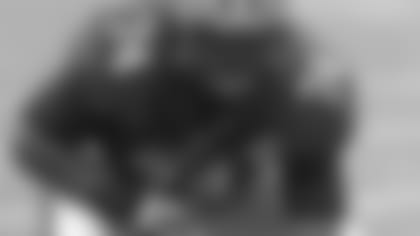 Left tackle Jermon Bushrod has been voted to each of the last two Pro Bowls.
"He's been in a championship locker room," said Bears coach Marc Trestman. "That has value that you can't measure in a lot of different ways. You need as many of those guys.
"He's been through adversity and he knows how to overcome it with teams that have won after overcoming adversity. That's huge because to win you have to understand and know what it's like to fail and how to overcome it because we all do it every day in our business. I think that's big."
Bushrod never won a championship at King George High School in Virginia or Towson University before being selected by the Saints in the fourth round of the 2007 draft.
After appearing in only three games his first two years with the Saints-all as a reserve-he earned the starting left tackle job in 2009. New Orleans opened the season 13-0, lost its three final regular season games and then won three straight playoff contests, including Super Bowl XLIV.
Bushrod will never forget the experience, one that he hopes to replicate with the Bears.
"You can barely put it in words," Bushrod said. "There's nothing like taking that journey and holding that trophy up and getting that ring. That was my first season really playing, so there were some ups and downs. But at the end of the day we had a good team and we had a good locker room. That's important to me going forward, and that's why I thought this place was a great fit."
The Saints' amazing ride to their Super Bowl championship mirrors the individual trek Bushrod followed from fourth-round pick to two-time Pro Bowler.
"It's pretty sweet; I'm not going to lie," he said. "It's been quite a journey, but it's a blessing. I come into work every day with the same mindset: whatever I've got to do to try to get my job done.
"I'm going to try to study as much tape as I possibly can, get to know my opponents, and try to keep them off my quarterback. That's really how I pretty much go to work every single day. I'm trying to open a hole, I'm trying to give [the quarterback] a second longer to throw the ball.
"That's what it's all about. I just want to have success. Nothing feels better than winning."
In 2011, Bushrod was part of a Saints offense that set NFL records with 7,474 total yards and 5,347 passing yards while ranking second in the league with 547 points. Last season New Orleans finished second with 6,574 total yards and third with 461 points.
Known for his tireless work ethic and being an excellent teammate, Bushrod is excited to join a Bears offense that features quarterback Jay Cutler, receiver Brandon Marshall, running back Matt Forte and new tight end Martellus Bennett, a fellow free-agent acquisition.
"There's so much history here in this organization, and they have a good team: good defense, good offense, good special teams," Bushrod said. "I was excited about the opportunity to be on another high-powered offense. Our offense in New Orleans, we got a lot of [recognition].
"I'm looking forward to just coming here and doing my job to the best of my ability. It's not always going to be pretty. But at the end of the day we'll just have to continue to fight and keep our eyes on the prize. I'm excited about this opportunity."