Just when it seemed the Bears were close to getting their regular offensive line back intact for the first time since the season opener, another starter has been bitten by the injury bug.
While center Roberto Garza and left guard Matt Slauson practiced on a limited basis Thursday for the second straight day, left tackle Jermon Bushrod sat out the workout after hurting his knee and ankle in Wednesday's practice.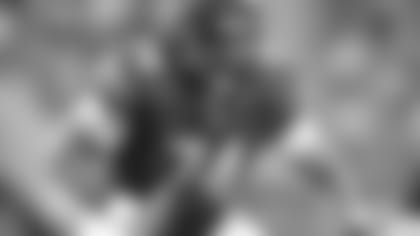 Jermon Bushrod
"It's an unfortunate incident," said coach Marc Trestman. "Certainly we don't want to get anybody hurt. It happened accidentally in practice. That makes all of us uncomfortable. But we have to move forward."
The injury puts Bushrod's availability for Sunday's road game against the Carolina Panthers in question. The 6-5, 320-pounder has started all 20 games since he signed with the Bears as an unrestricted free agent before last season.
"We're just going to be optimistic that it's nothing that's going to take too long," Trestman said. "It's day-to-day and we'll see where we are."
The Bears hope that Garza and Slauson will be able to return Sunday after missing the last three games with ankle injuries they sustained in a season-opening loss to the Buffalo Bills.
If Bushrod is unable to play, candidates to replace him include Michael Ola, Eben Britton and rookie seventh-round draft pick Charles Leno Jr. Jr. Ola has started the last three games in place of Slauson at left guard but played tackle in training camp and the preseason.
"We moved a bunch of guys there today and we're just going to have to decide as we go," said offensive coordinator Aaron Kromer. "We have backups. We have young guys. We have older guys that have been dressed for games.
"What we did today was rotate guys in and out and rotated different guys playing the big tight end, the extra lineman/tight end. We rotated guards. We rotated centers. We're getting some guys back healthy. Slauson got some reps and Garza got some reps. Everybody was back getting reps. We were just looking for our best combination today and what we feel best with."
The Bears didn't have to deal with these types of issues last season when they were one of three NFL teams that started the same five offensive linemen in all 16 games.
But until Wednesday, Bushrod was the only starting lineman who had not missed time with an injury this year. Right guard Kyle Long sat out the start of training camp with a viral infection and right tackle Jordan Mills also was sidelined this summer with a sore foot.
Even after Garza and Slauson went down in Week 1, however, the offense didn't miss a beat with veteran Brian de la Puente filling in at center and Ola stepping in at left guard.
"[General manager] Phil [Emery] has done a good job of bringing guys in that can play, even though they're not starters," said quarterback Jay Cutler. "Last year we rode the whole year with all five and this year two guys have been out and we've had to rotate some guys in.
"Even during training camp through the preseason we were constantly having different groups of five in there and they've all played well."
Bushrod was signed by the Bears on the first day of free agency in 2013 to help bolster the offensive line. During his first six NFL seasons with the New Orleans Saints from 2007-12, he won a Super Bowl and was voted to two Pro Bowls.
"He quietly does his job each and every week," Cutler said. "Most teams you go against have a defensive end or somebody who specializes to get to the passer and 'Bushy' over there just takes care of guys. You don't have to worry about it. You know the left side is locked up and let's worry about what's inside."
"Jermon is a very big, important part of both sides of the game, running and passing," added running back Kyle Long. "He is one of the most athletic guys we've got on the offensive line. He can use his size with the speed he has to get up on linebackers and make different types of blocks. He's pretty good in space as a big guy, too. He's a very important part to our offense."