Bears Hall of Fame middle linebacker Dick Butkus is considered one of the most ferocious defensive players in NFL history. But one of the most memorable plays of his career didn't involve a tackle, interception or big hit.
On Nov. 14, 1971, Butkus turned a botched snap into a game-winning extra point when he hauled in a desperation pass from Bobby Douglass to give the Bears a thrilling 16-15 comeback win over the Washington Redskins at Soldier Field.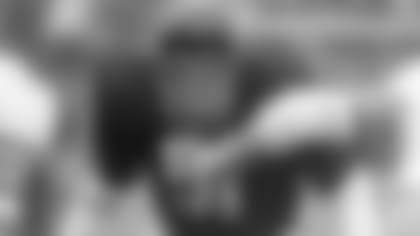 Dick Butkus was selected to the Pro Bowl in each of his first eight seasons with the Bears.


The Bears trailed 15-3 in the second half before cutting the deficit to 15-9 on a pair of Mac Percival field goals. Running back Cyril Pinder then scored the game's first and only touchdown on a 40-yard run up the middle, tying the score 15-15 with 11:19 left in the fourth quarter.
But on the subsequent extra point attempt, Gene Hamlin delivered a high snap to Douglass, who had no choice other than to take off with the ball. Scrambling to his left, the southpaw quarterback heaved the ball into the end zone to Butkus, who made an athletic over-the-shoulder catch and fell to the ground.
"It was too late to go back and block for Bobby," Butkus said after the game. "I did the only thing possible. I didn't know how deep I was in the end zone. I just turned around and waved, hoping that Bobby would see me."
Fittingly, Butkus had lined up for the extra point with blood streaming out of a cut above his left eye he had suffered while blocking on a punt return just two plays before Pinder's touchdown.
Lying on his back after making the circus catch, Butkus fired the ball in the air in celebration and scrambled to his feet when he noticed a penalty flag nearby. Wearing No. 51, Butkus was required to report as eligible on all kicks.
The Chicago Tribune's Cooper Rollow reported what happened next, writing: "With Butkus hovering over him, the official quickly retrieved his handkerchief and signaled the successful conversion."
"I wanted to make damn sure he knew I had reported in," Butkus explained.
The Bears protected their precarious one-point lead the rest of the way, escaping with the win after a gust of wind pushed Curt Knight's 46-yard field goal attempt wide left with :10 remaining.
Douglass excelled through the air and on the ground in the game, completing 15 of 33 passes for 214 yards while also rushing for a team-leading 88 yards on 10 carries.
Unfortunately, the Bears failed to build on their comeback win, losing their final five games to finish 6-8.