Kevin Butler started his career with the Bears by winning a Super Bowl in 1985 and ended it following 11 seasons as the franchise's all-time leading scorer.
A generation later, the former kicker is experiencing a whole new level of excitement and pride as he prepares to watch his son attempt to earn a roster spot with his former team.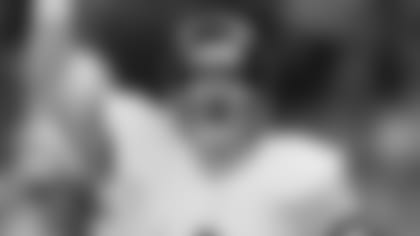 Kevin Butler was selected by the Bears in the fourth round of the 1985 NFL Draft.
Drew Butler is a punter who signed a reserve/futures contract with the Bears Dec. 31. He played for the Steelers as a rookie in 2012, but was out of the league last year.

"You couldn't have dreamt anything more exciting for the family and for him," Kevin Butler told ChicagoBears.com during a recent visit to Halas Hall. "He was born in Lake Forest and the Bears were his team growing up, so it's crazy the way things happen in the NFL.

"He started out in Pittsburgh and through no fault of his own ended up here in Chicago, and I think it's a great opportunity. We're really excited about it."

Like his father, Drew Butler starred at the University of Georgia. A two-time All-American, he won the Ray Guy Award in 2009 as the nation's top punter.

Butler signed with the Steelers as an undrafted rookie in 2012 and averaged 43.8 yards on 77 punts. Last season he beat out veteran Brian Moorman for the job, but was replaced by Zoltan Mesko six days before the season opener.

"Last year was tough because I don't think anybody in the NFL ever thinks it's a good situation when they're let go," said Kevin Butler. "He had made the team, had battled for a position against a veteran and won it hands down, and then didn't get an opportunity to prove that he had gotten better, and he certainly had.

"He'd put on probably about 25 pounds and just got that rookie year out of his system and knew what it took to improve, and I think that's his advantage this year. Coming in he is a veteran. He's not a rookie and that's something that I think is very important because to have those 16 games under your belt kicking in a tough environment in Pittsburgh can only be a benefit to him."

Butler seemingly has a golden opportunity with the Bears. First-year pro Tress Way, who was with the team last summer in training camp, is the only other punter on the roster. Veteran Adam Podlesh was released March 5 after the Bears finished last in the NFL in punting in 2013.

Asked what advice he will give his son, Kevin Butler said: "Respect the position you're in. I remember coach [Mike] Ditka telling me the first time I got here that it's a privilege to be a Chicago Bear. If you prepare yourself like that and you come out here and perform on a consistent basis, everything will play itself out. My advice to him is just enjoy it, embrace it and give it 110 percent."

Butler remains the Bears' all-time leading scorer with 1,116 points. But kicker Robbie Gould needs just 92 points to eclipse the mark. The irony is that if Drew Butler earns the punting job, he likely will be the holder when his father's record is broken.

Kevin Butler joked that he will teach his son "the Lucy move," referring to the Peanuts comic character who always pulled the ball away as Charlie Brown was about to kick it. Turning serious, he said that it would be incredible if his son played a role in Gould's record-breaking kick.

"It's a dream come true for a father," Butler said. "When you think about getting your records beat, there's only one way you'd probably like this scenario and that's somebody like Robbie breaking it who I have great respect for and a friendship with and for Drew to be involved. That's very special and I think it plays into the Bears tradition of great things happening here."