Kevin Butler was thrilled to see the Bears draft two Georgia players and believes that linebacker Roquan Smith and receiver Javon Wims have bright futures in Chicago.
As an undergraduate special-teams assistant at his alma mater the past two seasons, the former Bears kicker had an opportunity to watch both Smith and Wims develop on a daily basis.
The Bears chose Smith with the eighth pick in the first round of the draft. Last year the 6-1, 236-pounder was voted first-team All-American and won the Butkus Award as the nation's best linebacker after leading Georgia with 137 tackles, 6.5 sacks and 14.0 tackles-for-loss.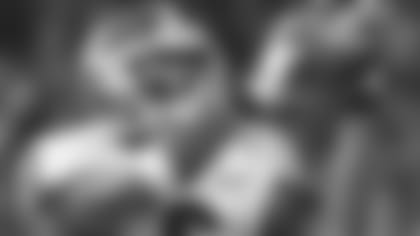 Wide receiver Javon Wims makes a catch in the College Football Playoff semifinal.


"Roquan is the kind of player that Chicago fans will love," Butler said. "He's dedicated, he's bright and he's a great communicator—on and off the field. I think he'll become a field general when he learns the system, and that's what you look for at that position."
Last season Smith helped Georgia win its first SEC title since 2005 and reach the CFP national championship game. He was named MVP of the SEC title contest in a win over Auburn and defensive MVP of the Rose Bowl in a CFP semifinal victory over Oklahoma.
"I think he's a guy who is going to follow in the footsteps of great Bears linebackers," Butler said. "He's tenacious and he plays at a different speed than what we're playing at down here in the SEC. The only thing faster than the SEC in football is the professional level and he's got the tools to do it.
"I think the people of Chicago will get to know him and love him quickly. He'll fit in very well with the fans of Chicago."
The Bears spent their final draft pick on Wims, choosing the 6-3, 215-pound receiver in the seventh round with the 224th overall selection.
Wims caught 17 passes for 190 yards and one touchdown in 2016 before blossoming last season when he led Georgia in all receiving categories with 45 receptions for 720 yards and seven touchdowns.
"Javon is a great sleeper pick for the Bears," Butler said. "It's something the Bears need, a little more size. They don't really have that huge receiver out there.
"We leaned on Javon last year and he responded. He was our go-to receiver. He had a great year for us. He's got the right attitude and the work ethic that's going to give him a great shot at making the Bears."