0: Number of punts in the Week 4 Bears-Packers game, only the second game in league history without a punt.
3: Interceptions by Kyle Fuller, which leads all rookies in the NFL.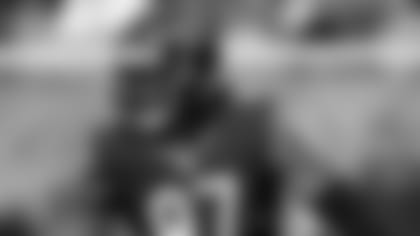 Willie Young has tallied 32 tackle and seven sacks in eight games played this season.
5: Touchdown receptions by Martellus Bennett, matching a career-high.
7: Sacks for defensive end Willie Young, a career high.
8: Made field goals for Robbie Gould, in 9 attempts.
45: Yards on Ryan Mundy's interception return in Week 3 versus the Jets, the only defensive touchdown for the Bears this season.
55: First downs made by Kyle Long, second-most in the league.
60: Consecutive starts for Brandon Marshall, the longest active streak in the NFL for wide receivers.
62: Different players who have played for the Bears this season, the most in the NFL.
67.2: Completion percentage for Jay Cutler, the highest of the quarterback's career.
88.5: Percentage of possessions the Bears have scored on when the ball reaches the opponents' red zone, fifth-best in the league.
381: Passing yards for Cutler in Week 6 versus Atlanta, his highest in a Bears uniform.
101: Receptions in 1995 by Cardinals fullback Larry Centers, an NFL record for a running back. Forte is on pace for 116 receptions this season.
1,365: Total punting yards for Bears rookie Pat O'Donnell.
9,148: Air miles flown by the Bears so far this regular season to opposing cities.