With 13 players listed on the injury report for their last game Oct. 18 against the Lions in Detroit, the bye week came at a perfect time for the Bears.
Having last weekend off should especially benefit safety Antrel Rolle, linebacker Shea McClellin and left tackle Jermon Bushrod, all of whom sat out the Lions game.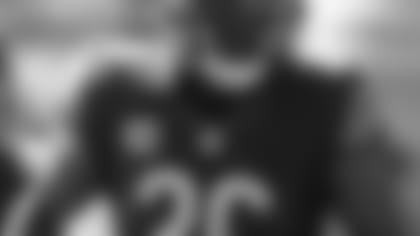 Safety Antrel Rolle sat out Week 6 against the Lions due to an ankle injury.
"We haven't been healthy all season," said coach John Fox. "We lost our quarterback for a game-and-a-half. We've been through a variety of offensive linemen, a variety of receivers. I like where we are right now as far as our depth and the people we have available."
The return of starters Rolle and McClellin certainly would give the defense a boost. The unit allowed four touchdowns in a 37-34 overtime loss to the Lions after yielding just four TDs in the previous three games with the two veterans in the lineup.
"Shea McClellin, getting him back in there at some point as well as Antrel, from a leadership standpoint, getting guys lined up and understanding how to execute our defense is key," Fox said.
After the bye: When the Bears host the Vikings Sunday, Fox will look to win his eighth straight game immediately following a bye. It's a streak that began in 2008 when he was coaching the Panthers.
"You guys keep track of that better than I do," Fox told reporters. "I've always been of the thought it's kind of who, when and where you play rather than the timing. We have a great test again against a division opponent. We're looking forward to the challenge."
Steady growth: Last week's release of veteran defensive lineman Jeremiah Ratliff figures to give rookie nose tackle Eddie Goldman more playing time. In his last two games, the second-round pick from Florida State has recorded 10 tackles, 1.5 sacks and two tackles-for-loss.
"Eddie's done a good job," Fox said. "Our personnel staff did a great job in selecting him. Our staff has done a good job coaching him up. I've seen steady growth for a young player and I think he's got a bright future."
Hometown huddle: Bears rookies participated in the Bears/United Way "Hometown Huddle" Tuesday at the Lake County Children's Advocacy Center and Zacharias Sexual Abuse Center in Gurnee.
The Bears, Bears Care and United Way of Lake County have partnered to construct two new Chicago Bears Play Zones for children and adults who have suffered abuse. The Play Zones will be equipped with new playgrounds and landscaping to provide a nurturing environment to support the emotional well-being of the victims of sexual abuse.
The group started at the Lake County Children's Advocacy Center (CAC) for a check presentation and later helped put the finishing touches on the Play Zones, assisting with mulching and laying sod.
The 2015 Hometown Huddle project began with a $20,000 grant from the Bears and the NFL Foundation to the United Way of Lake County. Bears Care, the charitable arm of the Chicago Bears, provided a matching grant of $20,000.
The NFL/United Way Hometown Huddle is a league-wide day of service designed to bring awareness and impact to the issue of youth health and fitness. During the 17th annual Hometown Huddle, NFL teams helped members of their local communities by building fitness zones and playgrounds, hosting youth football clinics conducting hands-on volunteer projects.
For the kids: The Bears and tight end Martellus Bennett recently partnered with former NFL player and New York Times bestselling author Tim Green for an event at Paddock Elementary School in Palatine.
The program consisted of a Play 60 segment during which students took part in various football and fitness drills led by Bennett and Green as well as a Read 20 portion during which Bennett and Green read the first few chapters of Green's latest novel, Kid Owner. The two also spoke to the kids about the positive impact reading has on building academic strength and character.
Play 60 is the NFL's youth health and fitness campaign. Designed to help tackle childhood obesity, Play 60 focuses on making the next generation of kids the most active and healthy by encouraging them to get at least 60 minutes of physical activity every day. The Bears implement the Play 60 message through a variety of in-school, after-school, web-based and youth-targeted programs that emphasize the importance of physical fitness and healthy lifestyles.