NFL teams typically don't sign backup quarterbacks on the first day of free agency. But after watching Jason Campbell in practice, it's evident why the Bears were so determined to acquire him.
During the first week of training camp, Campbell has displayed a smooth throwing motion, excellent arm strength and a nice touch—all without throwing an interception in 7-on-7 or 11-on-11 drills.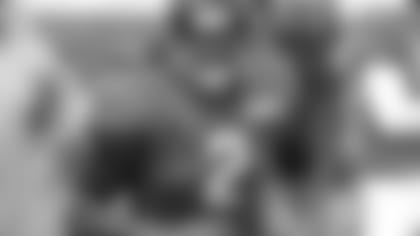 Jason Campbell looks for a receiver during a training camp drill in Bourbonnais.
"I feel great," Campbell said. "I feel like things are going along real well. One thing I'm impressed with is the competitiveness that the offense and defense are showing against each other. Guys come out to work every day to get better. That's the same thing I'm doing each and every day."

Last season Campbell led the Raiders to a 4-2 start before breaking his collarbone, completing 100 of 165 passes for 1,170 yards with six touchdowns, four interceptions and an 84.2 passer rating.

As a backup with the Bears, Campbell knows that his role is to serve as an insurance policy to prevent a repeat of what transpired last season when the offense faltered after Jay Cutler broke his thumb.

"I'm trying to work as hard as I can right now to make sure I'm prepared and once the preseason starts try to do the same thing because this is the only preparation that I may have the opportunity to get so that I can be ready when the season starts," Campbell said.

"Just in case something happens and I have to go in and play, I don't want the offense to feel like they have to stop doing what they were doing before but just continue to do what we were doing before."

Campbell has excelled in practice while operating the No. 2 offense. In a red-zone drill Sunday, he showed great touch in dropping a pass between two defenders to rookie tight end Evan Rodriguez for a touchdown and also connected in the end zone with Dane Sanzenbacher, Eric Weems and Alshon Jeffrey.

On Monday, Campbell floated a long pass down the left sideline to running back Armando Allen, who caught the perfectly-thrown ball in stride.

Campbell has started 70 of 71 career games in six NFL seasons with the Redskins (2006-09) and Raiders (2010-11). He has completed 60.8 percent of his passes for 14,417 yards with 74 TDs, 50 interceptions and an 82.8 passer rating that would be tops in Bears history.

Campbell has also rushed for 1,068 yards and six touchdowns in his career. Like fellow Bears quarterbacks Cutler and third-stringer Josh McCown, the 6-5, 230-pounder is big and mobile.

"We have athletic quarterbacks," Campbell said. "I think it's very important that when you look at the starter and the guys behind him, you want to make sure that if something does happen you don't have to change what you do because all the guys pretty much can do the same thing." [ ](http://www.phoenix.edu/campus-locations/il.html?utmsource=Story&utmmedium=instory&utmcampaign=300x100)
All three quarterbacks have enjoyed working with a revamped offense that features an abundance of weapons, including running backs Matt Forte and Michael Bush, and receivers Brandon Marshall, Devin Hester, Earl Bennett and Jeffrey.
"We definitely have some talent," Campbell said. "We have some things on offense that we do that can take advantage of a guy's ability with Jay's arm, Brandon's ability to catch balls as big as he is, Hester's speed, Earl reading defenses. The list goes on. And you add Alshon, another big tall target. He can help this team a lot as well. We're deep in a lot of areas and we've got to continue to try to get better and better."