When the Bears signed Jason Campbell on the first day of free agency in March, it spoke volumes about the importance they had placed on acquiring a quality backup quarterback.
Without a solid replacement on the roster last season, the Bears lost five straight games and tumbled out of playoff contention after starter Jay Cutler was sidelined with a broken thumb.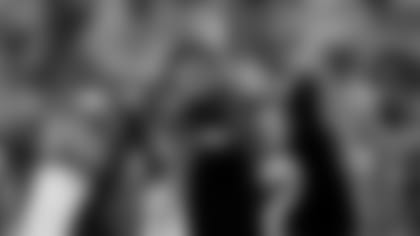 Jason Campbell confers with Jay Cutler during Sunday night's loss to the Houston Texans.
With Cutler's status for Monday night's game in San Francisco uncertain due to a concussion he suffered Sunday night against the Texans, the Bears are thrilled that Campbell is available if needed.

"We like our backup plan at the quarterback position," said coach Lovie Smith. "We like Jason Campbell. I've been saying that all along. And the reason why we like him is based on what we've seen from him in meetings, on the practice field and at training camp.

"We brought him here for a situation like this if it comes. If Jay can't go, we have a good backup plan, and that's the best position you can be in if your starter can't go. Jason Campbell has played good football in the NFL. He came in with a limited amount of reps Sunday night and did an OK job. If he has to play this week, he'll do an even better job."

Playing the entire second half against the Texans, Campbell completed 11 of 19 passes for 94 yards and a 70.9 passer rating. He led the offense to only three points, but the Bears did not commit any turnovers in slick conditions after turning the ball over four times in the first half.

"We have a lot of faith in Jason Campbell and what he's proven to do in the past," said center Roberto Garza. "He got a chance to show a little bit there in the game. But it comes down to all of us playing a lot better than we did this past weekend. We have to get better and we will get better."

Campbell joined the Bears after starting 70 of 71 games played in six NFL seasons with the Redskins (2006-09) and Raiders (2010-11). Last year he led Oakland to a 4-2 start before breaking his collarbone, connecting on 100 of 165 passes for 1,170 yards with six touchdowns, four interceptions and an 84.2 passer rating.

"He's comfortable in the pocket," Garza said. "He's comfortable calling the plays. Just look at his track record; it speaks for itself. There's a reason why he's here and there's a reason why he's in the situation he's in. Unfortunately he got hurt last year or else he'd be starting somewhere."

Texans linebacker Tim Dobbins reportedly has been fined $30,000 by the NFL for the helmet-to-helmet hit that injured Cutler Sunday night at Soldier Field.

Smith shed little light on Cutler's condition, saying only that the starting quarterback continues to improve. The Bears did not practice Wednesday and are not required by the NFL to produce an injury report until Thursday this week.

"I know a lot of you would like to know about Jay Cutler and how he is doing," Smith told reporters. "He is getting better. We're still evaluating him. He's meeting with people; seeing medical staff, our trainers and all of that."

To practice this week and play against the 49ers, Cutler will have to be cleared by Bears doctors as well as an independent neurological consultant. Returning from a concussion, a player must be asymptomatic while at rest and then during and after physical activity.

After being cleared to return to the field, the player is then monitored during practice and games, If symptoms return at any point, he must begin the entire process over.

"He's not going to start practicing until he is completely healed and ready to go," Smith said. "He won't play until there are no issues with that. It will all take care of itself."

While awareness concerning head injuries is at an all-time high in the NFL, the Bears are treating concussions with the same degree of seriousness as they have in the past.

"If a guy is in trouble, you don't play him," Smith said, "Once he doesn't have symptoms and he can start practicing, he can start playing, we play them. I know we're talking about them a lot more, but we're still looking at concussions the same way we did way back then."