Jason Campbell's coaches and teammates are confident in the veteran quarterback's ability to step in for the injured Jay Cutler Monday night when the Bears visit the 49ers.
"He's a pro that's been around a long time," said coach Lovie Smith. "He's thrown a lot passes, been in a lot of huddles. The guys feel comfortable with him. There's a reason why we have him here as our backup quarterback.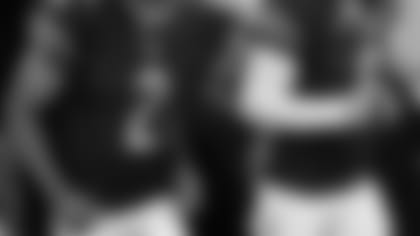 Jason Campbell (left) wiill start in place of Jay Cutler Monday night when the Bears face the 49ers.
"Jason being around a while knows that it's a long season and backups have to play from time to time, and I know he's ready to go."

Campbell will make his 71st NFL start, but his first since last Oct. 16 when he broke his collarbone while leading the Raiders to a 24-17 win over the Browns. He replaces Cutler, who sustained a concussion in the second quarter of last Sunday night's loss to the Texans.

"Jason's played a lot of football," said receiver Brandon Marshall. "He's an established vet and he's the next guy up and he's more than capable. When you look at what happened to the Bears last year, that's why he's here. We're fortunate to have a starting quarterback as our backup."

The Bears signed Campbell on the first day of free agency in March, hoping to avoid what transpired last season when they lost five games in a row after Cutler broke his thumb. Last year's backup quarterback, Caleb Hanie, had no NFL starts under his belt before replacing Cutler.

"We didn't handle last year well; of course it's documented we didn't," Smith said. "That's why we went out and we felt like we've upgraded the position.

"I know guys have a lot of confidence in Jason. He's played a lot of football, started a lot of games. So we're hopeful. That's why we can't wait to get to this game. Injuries do happen and we'll see exactly where we are, but we think we're going to be OK."

Playing the entire second half against the Texans, Campbell completed 11 of 19 passes for 94 yards and a 70.9 passer rating. The eight-year veteran figures to be more prepared this week after operating the No. 1 offense in practice.

"The more time you get the better it's going to be," Marshall said. "Even though he did a good job on Sunday I think he's going to do an excellent job on Monday just because of the week of preparation. Being out there with him, I really love the open line of communication between he and I and the other receivers. That makes it always easy, so I think we'll be fine."

While Marshall enjoys a special rapport with Cutler that developed during their three seasons as Broncos teammates from 2006-08, the Bears receiver isn't worried about clicking with Campbell. Last Sunday night against the Texans, the two connected on six passes for 86 yards.

"Jason Campbell gives us that luxury, that comfort level of being OK when our main guy goes down," Marshall said. "I'm excited and really at ease having him in our huddle."

Offensive coordinator Mike Tice described Campbell as a "veteran skilled talented backup quarterback who's really done a great job since he's come here."

"I'm excited to see him play this week," Tice said. "Watching him in practice, he brings tremendous poise and leadership to the guys. The guys have rallied around him. He's had two good rhythmic days of practice. I like the things he's doing.

"Certainly he has his thoughts on things that he likes in the [game] plan and things that he doesn't like in the plan. As always, we try to communicate with our players as best we can to make sure we're out there trying to call things that they feel good about and can execute properly."