Inspirational young athlete Kate Foster will enjoy an opportunity-of-a-lifetime Friday night when she announces the Bears' second-round pick at the NFL Draft in Philadelphia.
Foster will join NFL commissioner Roger Goodell and former Bears center Jay Hilgenberg on stage at the Philadelphia Museum of Art. An 18-year-old high school senior, the Rockford resident continues to compete in gymnastics despite losing her leg to leukemia when she was 12.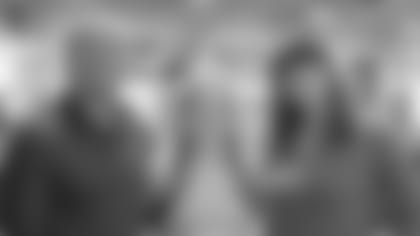 Kate Foster is flanked by her parents, Lynn and Barb Foster.


Foster has received national recognition for her leadership, strength and determination, winning the 2016 USA Gymnastics Robert Miller Spirit of the Flame Award.
She undoubtedly deserves to be honored after overcoming so much adversity at such a young age, having rebounded from a bone marrow transplant and having her left leg amputated.
"The orthopedic surgeon said even if we save the leg and this all works out, it's going to be a non-load bearing leg; she will not be mobile," said her father, Lynn. "So at that point the decision was made: if she wants to be active and she wants to have a normal life, then let's go ahead and amputate it."
"I actually told them no," Kate said. "My initial reaction was, 'no, you can't do that. I need it for gymnastics.' But it really wasn't a decision in the end. It was either my leg or my life."
Foster is getting the opportunity to announce the Bears' pick thanks to the NFL's partnership with the St. Jude Children's Research Hospital in Memphis. Foster received treatment at St. Jude after she underwent her bone marrow transplant and had her leg amputated at another hospital.
St. Jude offers free treatment, travel, housing and food to its patients and their families, and treatments invented at St. Jude have helped push the overall childhood cancer survival rate from 20 percent to more than 80 percent since it opened in 1962.
Foster isn't the only one who will announce a Bears pick at the draft. Here are the others:
• The Bears' third-round pick will be announced in Philadelphia by outside linebacker Sam Acho, the team's nominee for the 2016 Walter Payton NFL Man of the Year Award. The prestigious honor is the only league award that recognizes a player's off-the-field community service as well as his performance on the field.
• Command Sergeant Major (CSM) Mark W. Bowman of the Illinois Army National Guard will announce the Bears' fourth-round selection from Halas Hall. Bowman leads the noncommissioned officer corps and is responsible for all areas influencing enlisted members including training, discipline, morale and well-being.
• The Bears' second fourth-round choice will be introduced by the Calumet City ThunderBolts, who will have representatives from all of their Pop Warner teams present, with ages ranging from 8 to 14. Donovan Ceasar of the 12u team will announce the pick for Calumet City. Ceasar was selected as the MVP of his team, which won its first state and regional championship this past season.
• Pro Bowl running back Jordan Howard will announce the Bears' fifth-round pick from Halas Hall. Howard was selected by the Bears in the fifth round of last year's draft out of Indiana and became the team's first rookie running back voted to the Pro Bowl since Gale Sayers in 1965. Howard set team rookie rushing records with 1,313 yards and seven 100-yard games in 2016.
• The Bears' seventh-round pick will be announced by Nick Ravelingeen, a Bears season-ticket holder since 2004 who won the opportunity through the Bears Draft Experience Sweepstakes.