Bears right guard Kyle Long usually doesn't need to actually see Ka'Deem Carey to know that the bruising 5-10, 220-pound running back is carrying the ball.
"Sometimes you can hear the tackle and you know it was Ka'Deem because he tries to kill people when he has the ball," Long told reporters at training camp.
Selected by the Bears in the fourth round of the 2014 draft out of Arizona, Carey boasts a physical running style that complements the faster and more elusive Jeremy Langford in the backfield.
"I take a lot of pride in that," Carey said. "I feel like over time in a game the defense wears down off that. They don't always want to come down and deliver that blow on you, so I think it takes a beating on a defensive player. You get me after a while and then Jeremy goes in there and puts a move on that safety because he thinks he wants to deliver the big hit and he goes for 60."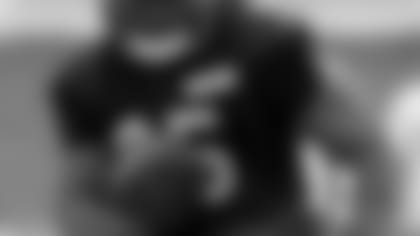 Ka'Deem Carey was selected by the Bears in the fourth round of the 2014 draft.


Carey conceded that he approaches his job with the mentality of a defensive player.
"That's how you've got to do it at running back," he said. "It's like playing linebacker. You've got be real physical. You've got to be ready for the hit at all times and just wiggle your way through and have a lot of fun out there."
Carey hopes to have a lot more fun this season. He saw limited action while playing behind veteran Matt Forte the last two years, rushing for 158 yards on 36 carries in 2014 and 159 yards and two touchdowns on 43 attempts in 2015. But with Forte no longer with the Bears, Carey is competing for expanded playing time with Langford and rookie fifth-round pick Jordan Howard.
The Bears' faith in Langford and Carey was a main reason they did not offer a new contract to Forte, who later signed with the New York Jets.
"This is a huge opportunity," Carey said. "In this business, all you do is wait around for your opportunity. This is my opportunity to shine and it's an opportunity for this whole backfield to [showcase] their talent. I'm looking forward to it; it's a great opportunity. You have to go in there every day like it's a game mentality and showcase what you do."
Regardless of who wins the starting running back position, coach John Fox intends to employ a backfield-by-committee approach as he has done throughout most of his career.
"That's beautiful," Carey said. "We're here to win games, so you don't want to take a back out when he's feeling himself and doing good for the team. We have good backs here. Whoever has that hot hand is going to have that hot hand, pretty sure going over 100, just having great games."
Carey feels that the biggest strides he's made since his rookie season are in how he takes care of his body and has gained a greater understanding of the game.
"Everything has definitely slowed down now and now it's about going out there and making plays," Carey said. "I know the [blitz] pickup. I know the whole offensive playbook. I'm healthy. I'm at 220; I feel good. And coach has many backs to rotate in, so it's keeping us all fresh."