New Bears running back Ka'Deem Carey made a very positive first impression on offensive coordinator Aaron Kromer over the weekend at the team's rookie minicamp.
The fourth-round pick displayed some of the attributes that enabled him to become Arizona's all-time leader in rushing yards (4,239) rushing touchdowns (48) and all-purpose yards (5,483).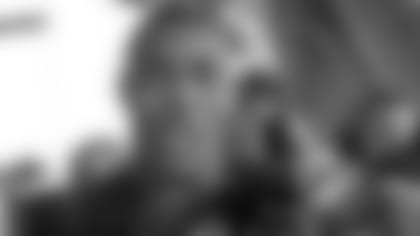 Running back Ka'Deem Carey speaks to the media during the Bears rookie minicamp at Halas Hall.
"When he sees a hole, he's able to get north," Kromer said. "He even did it a couple of times that when you go back and watch it on tape you say, 'Why did he run there?' And then you say to yourself, 'How did he get from there to over there and gain three yards when no one was looking really?'
"That's what Ka'Deem Carey can do. He's a north-and-south runner, meaning when he decides to put his foot in the ground he doesn't dance, he just goes. He's gaining yards, and that's what we like about Ka'Deem—he makes a cut, he gains yards. That's what we're looking for."
In his first full season as a starter at Arizona in 2012, Carey led the FBS in rushing with a school-record 1,929 yards and 23 touchdowns while also catching 36 passes for 303 yards and 1 TD. He set a Pac-12 rushing record with 366 yards while scoring five TDs against Colorado.
Last season Carey appeared in 12 games with 11 starts, rushing for 1,885 yards and 19 TDs on 349 carries while catching 26 passes for 173 yards and one TD. He rushed for at least 100 yards in each of his final 16 games at Arizona, the longest streak in Pac-12 history.
Carey's draft stock may have slipped after he ran a 4.7 in the 40-yard dash at the NFL Combine. But Kromer is not concerned about a lack of speed with the 5-9, 207-pounder.
"I don't know about the scouts and how they evaluated Ka'Deem," Kromer said. "But I'm glad I watched the tape before I found out he ran a 4.7 because I didn't see a 4.7 on tape-or whatever it is he ran as a final 40. He's quick, and he can get from Point A to Point B in a hurry.
"Maybe in the long distance he might get caught by someone faster. But we're more concerned about gaining four or five yards, or 20 yards, than we are about him busting a touchdown that you see three times a year. We feel very good about him being productive with his quickness and his physical play."
In addition to Carey's running skills, his personality was also on display at rookie minicamp. The Arizona native joked that he was "dummy-shocked" to see snowflakes falling in mid-May and had a constant smile on his face.
"I don't feel any pressure," Carey said. "I like to have fun, and when I have fun, I play my best. If I get worked up about trying to compete and trying to show what I've got, then I will just show out bad. I want to perform how I know how to perform. I walk around with a smile, and I have fun, and I perform."