Bears coach Marc Trestman revealed Thursday that if workhorse running back Kyle Long needs a break in Sunday's season opener, rookie Ka'Deem Carey will be the first player off the bench.
"We don't go into the game saying we're going to give Matt a blow," Trestman said. "We don't look at it that way. [Running backs coach] Skip [Peete] knows when it's time for him to come out. We just do it series-by-series basically, but you would expect that if Matt came out of the game that Ka'Deem would go in. He would be the first guy to go in and we're excited to see what he can do."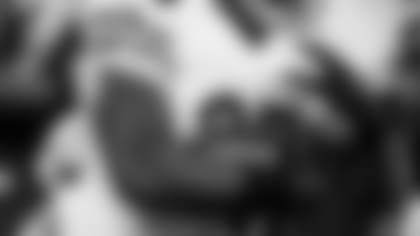 Ka'Deem Carey was selected by the Bears in the fourth round of this year's draft.
Carey, who has been listed third on the depth chart behind Shaun Draughn throughout the summer, rushed for a team-high 74 yards and one touchdown on 27 carries in the preseason.

The Bears feel comfortable putting Carey on the field in part because the fourth-round pick from Arizona has rapidly improved picking up blitzes, which is of the utmost importance to his coach.

"He got up to speed very quickly," Trestman said. "The first thing he did was show us that he not only wanted to do it, but he physically understood and mentally understood how to do it, and that showed up. Now is he going to be perfect? Nobody's perfect at it. But he came around very quickly.

"He also learned how to practice quickly and how to do in a professional [way] and the expectations that we had. And once he turned that corner, he really did progress quickly. We don't really know how it's going to transition to the real deal on Sunday and the weeks to come, but he's earned the right at this point to have the first shot."

Work in progress: Bears quarterback Jay Cutler said his chemistry with Santonio Holmes is "getting there" and is confident that the veteran receiver can bring explosiveness to the offense.

"He can definitely still go," Cutler said. "He's got a burst to him. He's a longer strider than I thought he was going to be. I thought he might be a choppy guy, but he's definitely a longer strider. He's got some burst getting out. He can still drop his hips and get out of the cut like a small guy can."

A nine-year NFL veteran who was named Super Bowl XLIII MVP with the Pittsburgh Steelers in 2008, Holmes signed with the Bears Aug. 16.

"It's fun just trying to catch him up to speed," Cutler said. "It's hard to learn this offense in three weeks. It's really hard."

Health update: For the second straight day Thursday, third-string quarterback David Fales (shoulder) did not practice and fullback Tony Fiammetta (hamstring) was limited.

For the Bills, tight end Lee Smith (toe) did not practice, while safety Jonathan Meeks (neck), running back Anthony Dixon (hamstring) and linebacker Brandon Spikes (knee) were limited.

Just for openers: The Bears have won four straight and five of their last six season openers. The four consecutive wins is the longest active streak among NFC teams and tied with the Texans for the second longest streak in the NFL behind the Patriots, who have won 10 straight openers.