Even though Gabe Carimi has been working out on his own in Arizona and not participating in the Bears' voluntary OTA practices, he'll be welcomed back when he returns to Halas Hall.
"Gabe is doing what he feels is best for Gabe and I think I've said it in the past: We'll welcome him with open arms when he comes," general manager Phil Emery told reporters Tuesday after the Bears conducted their eighth OTA workout. "I look forward to seeing how he's doing."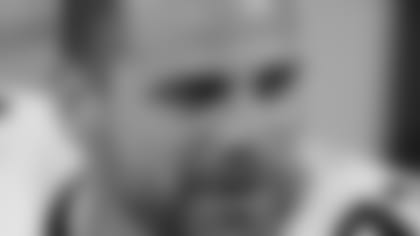 Gabe Carimi
Emery revealed that the Bears have kept in contact with Carimi, an offensive lineman who they selected in the first round of the 2011 draft. The 6-7, 316-pounder likely will be back at Halas Hall next week to participate in the club's mandatory three-day minicamp.

"That'll be up to Gabe," Emery said. "You might want to ask him. I'm assuming that he will be [on hand]. Certainly he wants to play and wants to play well. I think that's why he's approached his training that way. Those are questions only Gabe can answer.

"We'd like all our players to be here, but Gabe made a decision that was best for Gabe. Every individual player has to make those decisions. [OTAs] are voluntary and we're going to respect that and we're going to respect Gabe in his decisions."

A natural tackle, Carimi was shifted to guard last season and remains at the new position. But Emery doesn't think that has anything to do with his absence from OTAs.

"I will say with 100 percent conviction that Gabe never demonstrated or vocalized any disappointment," Emery said. "He's a competitor and he wants to continue to compete. He's done what he's felt is in his best interests to put himself in that position, and we're going to honor that. And again, I'm assuming that he'll be here next week."

Miller suspended: Bears tight end Gabe Miller has been suspended without pay for the first four games of the season for violating the NFL's policy on performance-enhancing substances.

"I would like to apologize to the entire Bears organization as well as our fans for taking a substance during the offseason that is prohibited by the NFL without a medical exemption," Miller said in a statement. "While it was an isolated incident, I regret the poor judgment I showed and accept full responsibility for this mistake along with the punishment that comes with it. In the meantime I will continue to work hard and contribute in any way I can. I look forward to having the opportunity to make this up to the people that I have disappointed."

Miller, who spent most of last season on the Bears' practice squad, is permitted to participate in all offseason practices and preseason games. After sitting out the first four regular-season games, he will then be eligible to rejoin the active roster on Monday, Sept. 30.

Miller was selected by the Chiefs in the fifth round of the 2011 draft out of Oregon State. He spent the 2011 season on Kansas City's active roster but did not appear in a game.