Kevin White's return from a leg injury has been well-documented. But the 2015 first-round pick isn't the only Bears player back on the field after missing all of last season.
Tackle Nate Chandler, who signed with the Bears June 3, spent the entire 2015 campaign on injured reserve with the Carolina Panthers due to a knee injury.
"It was pretty hard," Chandler said. "But I try not to sulk or get down on myself because I knew there would be another opportunity for me, no matter where it would be. Fortunate enough, I'm here and I'm glad to be here."
Coming off his injury, Chandler is thankful that the Bears made a commitment to him.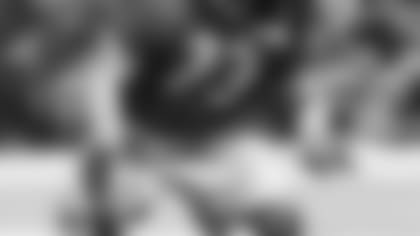 OL Nate Chandler at OTAs earlier this month


"It just shows me that they believe in me," he said. "I visited with other teams and things didn't work out. But it's just a great feeling to have someone who believes in the process that I've been going through and just gave me a chance to come out here and compete.
"It's a great organization. The facilities are amazing. We have a good room with the o-line. The coaches are real interactive. I feel like there's a good thing going here, and I'm just glad to be a part of it."
It appears that Chandler will compete for the swing tackle position behind starters Charles Leno Jr. Jr. and Bobby Massie. After signing with the Bears, the 6-4, 315-pounder from UCLA participated in four OTA practices and three minicamp workouts.
"My biggest challenge is getting back onto the field and getting my feet wet and getting back out there and competing," Chandler said. "At the same time, the playbook, it's different. As far as the plays go, I'm used to the zone plays and those principals. I would say the biggest thing is getting back into football shape and really getting into the playbook."
The offensive tackle position is still relatively new to Chandler. He entered the NFL with the Panthers in 2012 as an undrafted free agent defensive end and played in 10 games on that side of the ball as a rookie, all as a reserve.
Chandler switched to offensive line in 2013, appearing in all 16 games with eight starts before starting all 11 games he played in 2014.
"I was actually on the scout team and they saw me moving out there as an offensive lineman," Chandler said. "The next offseason they asked me to move over [to offense] and I made the team and went from there."
As an offensive tackle, Chandler draws on his experience at defensive end.
"It definitely helps out," he said. "I feel like just knowing the mentality of a defensive lineman and their techniques or their responsibilities helps me as far as our schemes go."
While the two positions are vastly different, Chandler's mentality remains the same.
"Offensive line is definitely an aggressive position," he said. "I feel that there's a lot more going on in an offensive lineman's head as far as the plays and different schemes that the defense might be running.
"As a d-lineman, you're taught to attack the quarterback, hold your gap and really just go out there and be relentless. It's the same mentality for me I feel like because you want to be relentless against these d-linemen or you're going to end up losing most of your blocks."