The injury-depleted Bears defense took another significant hit Sunday when cornerback Charles Tillman sustained a torn right triceps in the Bears' 21-19 loss to the Lions.
The 11-year veteran has been placed on injured reserve with the designation to return, meaning that he will be eligible to practice in six weeks and can return to game action in eight weeks. As a result, Tillman will miss the rest of the regular season but could come back for the playoffs.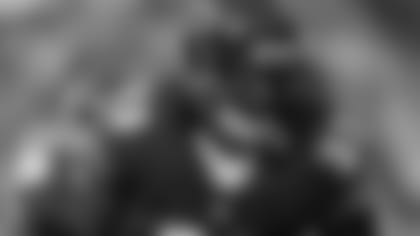 Charles Tillman was selected to the Pro Bowl each of the past two seasons.
Tillman told reporters Monday at Halas Hall that he was injured at some point in the second half while defending Lions star receiver Calvin Johnson.
"I don't know exactly what play," Tillman said. "I just remember shoving Calvin on one play and I felt something kind of strain, perhaps tear. I just felt a sharp pain."
Tillman revealed that the injury was initially diagnosed as a tear, but it's still being evaluated. He plans to seek a second opinion, but doesn't think he will need surgery.
Tillman has missed only seven games over the last nine seasons with injuries, starting all 136 contests he's appeared in. He sat out a Thursday night win over the Giants Oct. 10 with a right knee injury, snapping a streak of 53 consecutive games played.
"I'm definitely sad," Tillman said. "This team has a lot of potential. The fact that I'm no longer a part of that to help this team further succeed, that's the part that hurts. My role right now is to be the biggest cheerleader and supporter on the sideline."
While Tillman detests the idea of not being able to play, he intends to help defensive backs coach Jon Hoke and assistant Chris Harris as much as possible during games.
"If they need something or I see something, they have an extra set of eyes and some experience on the sidelines with them," Tillman said. "I'm not fond of coaching, but I guess I'm being thrown into it. I'm willing to help out and do my part."
Tillman will be replaced by Zack Bowman, a sixth-year pro who has appeared in 66 games with 17 starts in six seasons with the Bears. In his only year as a regular starter in 2009, Bowman led the team with six interceptions.
"He's a veteran," Tillman said. "He's been in this defense a while. He's been a starter on this defense before Tim [Jennings] got here. So I think Zack Bowman is a good fit. He's the next man up and I have nothing but confidence and faith in Zack. I think he can get the job done."
Starting in place of Tillman earlier this season against the Giants, Bowman intercepted an Eli Manning pass on the third play from scrimmage and finished the game with four tackles.
"There's no way to replicate what Charles can do," said coach Marc Trestman. "We know Zack's up and we saw what Zack can do. Zack played in the Giants game and made a big play for us early in the game. He's got the ability to play.
"He's not going to tell you he's Charles Tillman and we're not going to tell you that either. But he's a good football player and he'll step in and I'm sure be at his best."
Since arriving in 2003 as a second-round draft pick, Tillman has established Bears records for most defensive touchdowns (9), interception return TDs (8) and interception return yards (675). His 36 interceptions are third most in team history behind Gary Fencik (38) and Richie Petitbon (37) and Tillman's 42 forced fumbles are the most by any NFL player since he entered the league.
Tillman, who conceded that he was never 100 percent since hurting his knee in a Week 2 win over the Vikings, is the Bears' fifth defensive starter to suffer a major injury this year.
Defensive tackles Henry Melton and Nate Collins are out for the season with torn ACLs, linebacker D.J. Williams is on injured reserve with a torn pectoral muscle, and linebacker Lance Briggs is expected to miss about six weeks with a fractured shoulder.
"It's just one of those seasons," Tillman said. "It's the National Football League. It just so happened the injury bug has a hold of our team for some reason."