Tracy Porter had other options in free agency. But his decision to re-sign with the Bears earlier this month was an easy one for the veteran cornerback.
After emerging as a key contributor in his first season with the Bears last year, Porter wanted to keep working with general manager Ryan Pace, coach John Fox and defensive coordinator Vic Fangio.
"I drew a pretty good amount of interest, but Chicago was a place that I wanted to be," said Porter, who signed a three-year contract with the Bears on March 9.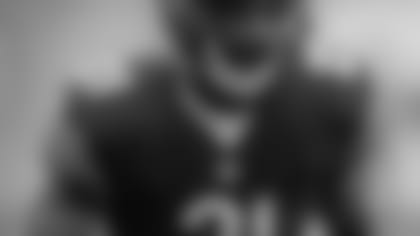 Veteran cornerback Tracy Porter led the Bears with 22 pass breakups last season.


"I knew I wanted to be here. I knew I wanted to continue to play here. Just being familiar with coach Fox, with Ryan, being comfortable with Vic and the defense and just seeing the direction that we were going as a team, I wanted to continue to be a part of that."
Porter appeared in 14 games with 13 starts for the Bears last season, leading the defense with 22 pass breakups while also recording 38 tackles.
In a Thanksgiving night win over the Packers, Porter registered an interception and became the first NFL player ever to break up four Aaron Rodgers passes in a single game.
Rodgers had entered the nationally-televised contest having won 10 straight games he had started and finished against the Bears.
"That was a huge win for us," Porter said. "We came in with the mentality that regardless of what the history was of us losing to them at Lambeau, the last time we won at Lambeau, all that was out the door.
"We came in with the mentality that we're going to grind it out, we're going to play 60 minutes or 60-plus minutes—whatever it took—but we said we weren't going to leave Lambeau field without a victory. We really honed in and dug our claws in the ground and we played a hard-fought game and we came out with the victory."
Porter originally joined the Bears after spending his first seven NFL seasons with the Saints (2008-11), Broncos (2012), Raiders (2013) and Redskins (2014). In 2009, he clinched a Saints win over the Colts in Super Bowl XLIV by intercepting a Peyton Manning pass and returning it 74 yards for a touchdown.
Porter already had a history with Pace and Fox before joining the Bears. Pace worked in the Saints' personnel department in 2008 when New Orleans drafted Porter in the second round out of Indiana, and Fox coached the cornerback with the Broncos in 2012.