Playing on an injury-depleted defense, safety Chris Conte is determined to build on a breakout performance Sunday when the Bears host the Ravens at Soldier Field.
After struggling most of the season, Conte produced three impact plays in last Sunday's 21-19 loss to the Lions. He returned an interception 35 yards and had two key pass breakups, one on fourth down and one in the end zone that forced Detroit to settle for a field goal.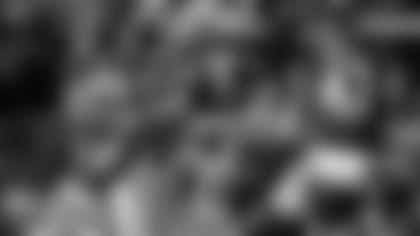 Chris Conte soars to intercept a pass intended for Calvin Johnson in last Sunday's loss to the Lions.
"I needed it," Conte said Wednesday at Halas Hall. "It was about time and hopefully I can build off of that and continue to make some plays. We have a lot of guys out and it's time for somebody to step up, so it would be nice for me to step up and start making plays."
Considered a promising young player entering the season, Conte had struggled with missed tackles and making plays on the ball. But his impressive outing last Sunday should boost his confidence.
"Just knowing that I can make those plays helps out a lot and hopefully will give me the ability to go out and make some more," said Conte, a 2011 third-round draft pick from California.
Conte admits that he was paying attention to the criticism he was receiving, but has since pulled the plug, literally.
"I was, but I learned to not even look at it, not even to go on the Internet," Conte said. "I don't even have a computer anymore. So I just don't listen to it or pay attention to it."
New addition: The Bears added depth to their secondary Wednesday by signing veteran safety Derrick Martin to a one-year contract.
The 5-10, 198-pounder has appeared in 66 games with four starts over season NFL seasons with the Ravens (2006-08), Packers (2009-10), Giants (2011) and Patriots (2012), recording 37 tackles, three interceptions, eight pass breakups, one sack and one fumble recovery.
Martin spent time with the Bears this summer, recording one tackle in two preseason games. He fills the roster spot that was created Monday when cornerback Charles Tillman was placed on injured reserve with the designation to return after tearing his right triceps against the Lions.
On the mend: Defensive end Shea McClellin, who had his own breakout game Nov. 4 in Green Bay, did not practice Wednesday due to a hamstring injury.  
The 2012 first-round pick was named NFC defensive player of the week after recording three sacks in a 27-20 win over the Packers, matching his output in the first 21 games of his career. But McClellin hurt his hamstring last Thursday in practice and missed the loss to the Lions.
"He worked with trainers today," said coach Marc Trestman. "I know he wants to get out there. We'll see where he is [Thursday]. I think that we'll know a little bit more [Thursday]. If he's out on the practice field getting some work in, that will be a good sign."
Snap decision: Veteran long-snapper Patrick Mannelly also sat out practice Wednesday with a calf injury that he sustained in the first half against the Packers.
Mannelly was replaced last Sunday versus Detroit by Jeremy Cain, who spent the last four seasons long-snapping for the Jaguars but had not played this year.
"For being out that whole time, I thought he did a good job," said special teams coordinator Joe DeCamillis. "A lot of times that doesn't happen. You don't get as quality a guy as we did right there, and we were able to do that. That's a credit to our personnel people."