It didn't take former Bears safety Chris Harris long to find a second career.
After announcing his retirement over the weekend following eight NFL seasons, Harris joined new Bears coach Marc Trestman's staff on Monday as a defensive quality control assistant.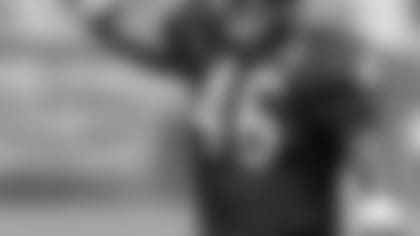 Former safety Chris Harris returns to the Bears as a defensive quality control coach.
"I love the aspect of teaching and I love the game," Harris told ChicagoBears.com. "I have a strong passion for the game. I knew by my third or fourth year that's what I wanted to do when I got finished playing, so I started preparing myself back then to put myself in this position."

Harris, 30, prepped for his second career by asking the coaches he played for about their backgrounds, how and why they got into the profession, and their job responsibilities.

Harris was selected by the Bears in the sixth round of the 2005 draft out of Louisiana-Monroe. He intercepted two Brett Favre passes in a division-clinching win in Green Bay as a rookie and picked off Peyton Manning a year later in Super Bowl XLI.

Harris was traded to the Panthers in 2007, and then dealt back to the Bears in 2010. His second stint in Chicago ended when he was released on Oct. 27, 2011. Harris appeared in 44 games with 39 starts for the Bears, recording 234 tackles, 10 interceptions and three fumble recoveries.

Harris is excited about returning to the Bears again, albeit in a brand new role.

"It's an awesome opportunity," he said. "They say the third time's a charm. This is my third time back here, but on the other side. I'm just grateful to be able to start my coaching career at the same place that I started my playing career. That's kind of unique and special to me."

NFL quality control coaches generally are responsible for a wide variety of tasks, including cutting up tape and inputting data into computers. With the Bears, Harris will work with several former teammates including Charles Tillman, Julius Peppers and Lance Briggs, among others.

"I think it's going to be a very unique experience for me," Harris said, "getting out of the player way of thinking and into the coaches way of thinking."

Harris won't necessarily pattern himself after any one of the four head coaches he played for in the NFL, but intends to incorporate bits and pieces from a diverse group that consists of Lovie Smith (Bears), John Fox (Panthers), Jim Schwartz (Lions) and Mike Mularkey (Jaguars).

"I'm going to take it all in and create my own style," Harris said. "You learn from each one of them. You've got certain things about them that you love and you want to try to take from them."

Harris is eager to work for Mel Tucker, his defensive coordinator with the Jaguars last season who accepted the same position on Trestman's staff with the Bears.

"He's an excellent coach and he's a guy that I can learn a ton from," Harris said. "He's come up, he's done everything the right way and he's a hell of a coach.

"He's a guy that never panics. I never saw him panic once while I was down there in Jacksonville. He's a great motivator, a great teacher and a great communicator. He's got all of those attributes, and those are the things that you want in a coach."

More coaches: The Bears on Monday also hired Dwayne Stukes as assistant special teams coach and Sean Desai as a second defensive quality control assistant.

Stukes spent six seasons as an assistant coach with the Buccaneers from 2006-11, serving as special teams coordinator in 2011. Stukes will work closely with new Bears special teams coordinator Joe DeCamillis.

Desai served as running backs/special teams coach at Boston College last season, helping the Eagles lead the NCAA in punt returns with a 21.7 average. He was previously the director of football operations at the University of Miami after spending four seasons at Temple from 2006-09.

Roster move: The Bears on Monday signed safety Cyhl Quarles to a reserve/future contract.

The 6-3, 212-pounder entered the NFL with the Ravens in 2012 as an undrafted free agent from Wake Forest. He spent part of the regular season on the Patriots practice squad after getting released by Baltimore at the end of the preseason.

In 50 career games at Wake Forest, Quarles compiled 239 tackles, two interceptions, six passes defensed, two fumble recoveries and one forced fumble.