Signed by the Bears as an undrafted free agent, linebacker Christian Jones is excited about the opportunity he's being given to earn a roster spot with one of the NFL's founding franchises.
But the Florida State star will never forget the surprise and disappointment he experienced last weekend when his name was not among the 256 names called in the draft.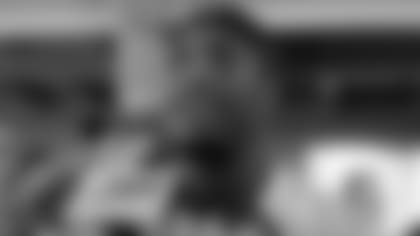 Linebacker Christian Jones speaks to reporters during the Bears rookie minicamp at Halas Hall.
"It's a lot of motivation," said Jones, a productive three-year starter for the Seminoles. "It's the competitive side. You see guys getting drafted above you ... everybody thinks they're better than somebody. But that's how it is. It's going to help fuel me, [but] I believe that things happen for a reason. I really feel like I belong here and I'm just making the best out of this opportunity."

Some pundits expected Jones to be selected as high as the second or third round. Most predicted that he would at least be picked on the final day of the draft, describing the 6-3, 240-pounder as athletic, fast and physical with a passion for the game.

During the Bears rookie minicamp this weekend, Jones conceded that a diluted drug test at the NFL Combine likely was a reason he did not get drafted.

"It probably had something to do with it," he said. "This is a business. They invest a lot of money in players. I'm not going to sit here and mope about it. Like I said, things happen. I'm fortunate enough and blessed to still be able to get on a team and I'm just going to make the best of it.

"At the end of the day, I'm still out here playing football, and that's where we all wanted to be-in the NFL and playing football, so I've got a good chance of doing it."

A four-year contributor at Florida State, Jones started all 13 games at strongside linebacker as a sophomore in 2011, recording 56 tackles and three sacks. In 2012, he led the Seminoles with 95 tackles while starting all 14 games at weakside linebacker. Last season he started two games at middle linebacker and the final 10 at the strongside position, compiling 56 tackles and two sacks.

Jones also lined up at defensive end last season at Florida State.

"I feel like I've got a lot of versatility and I feel like I can fit in a lot of different systems," Jones said. "I feel like I just need to focus on one spot. I've been moved around my whole career and I feel like people didn't really see what all I could do. They just saw a little glimpse of it. I think it's going to be a good opportunity to see me at one spot and see what I do."

Jones worked at strongside linebacker during rookie minicamp.

"He's a guy who has athleticism, and we're watching him closely," coach Marc Trestman said Saturday. "He's got a smile on his face the two days that we've seen him. It's clear that he loves football, and we're going to watch him close as we proceed through OTAs and at training camp."

Jones had multiple options as an undrafted free agent, but chose to sign with the Bears in part so he could work with linebackers coach Reggie Herring.

"He actually played with my dad at Florida State, so that's pretty cool," Jones said. "I knew I'd get some good coaching from him and I knew about the Bears history, winning nine championships. It's a great organization and I just wanted to be a part of it."