One of the bright spots during a dismal Bears season has been the development of rookie linebacker Christian Jones, who led the team in tackles each of the past two games.
Starting in place of the injured Lance Briggs at the weakside position, Jones recorded 15 tackles against the Saints and 18 stops including his first NFL sack versus the Lions.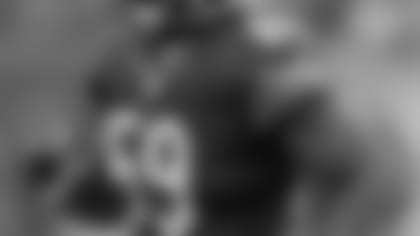 Bears rookie linebacker Christian Jones has recorded 33 tackles in the last two games.
"I think he's a lot more confident in what we need him to do from an assignment standpoint," said defensive coordinator Mel Tucker. "And that just comes with reps. He's a football guy. He loves to play the game. It means a lot to him. But in order to learn how to play the position, you have to play. You have to get reps.

"He's gotten those reps in practice and he's gotten a lot of reps in the games. So he pretty much knows where he needs to be so he can play fast and you're starting to see the production."

Jones, who signed with the Bears as an undrafted free agent from Florida State, ranks third on the team with 91 tackles, trailing only linebacker Jonathan Bostic (117) and safety Ryan Mundy (97).

On the mend: After sitting out the Bears' loss to the Lions with a hip injury, right guard Kyle Long told reporters Tuesday that he will play in Sunday's season finale in Minnesota.

"Players like Kyle, they're always optimistic that they're going to play, and we're hoping that he will," said coach Marc Trestman. "We'll see where he is."

Trestman knew exactly where Long was last Sunday after Jeremiah Ratliff blocked a Lions field goal attempt. Long celebrated by grabbing Trestman from behind and giving the coach a bear hug.

"I love the players on this team," Trestman said. "Kyle's one of the guys I love. We had some fun on the sideline. It was a good moment. Kyle was a great teammate on Sunday. He was trying to rally the team, with all the players, trying to encourage them.

"He's got very unique leadership skills in terms of his love of the game and his intelligence level and his enthusiasm for the game. We sorely would have liked him to play, but he did the best he could—and that was to create some enthusiasm on the sideline and help guys out."

Dirty play: Defensive end Jared Allen was asked about the suspension that Lions center Dominic Raiola received for stomping on the back of defensive tackle Ego Ferguson's leg in Sunday's game.

"I don't think there's room for that in the game," Allen said. "You can end a career that way. I'm all for veteran savviness and things that happen within the game of football. But blatant acts to try to intentionally hurt somebody, I don't think there's any room for it."

In a press release announcing the NFL's decision, it's noted that this is Raiola's sixth safety-related rules violation since 2010. He will miss Sunday's game against the Packers in Green Bay, a contest that will determine the NFC North Division champion.

Trestman declined to comment on the suspension, saying only that "the NFL has their parameters in how they deal with this. They have a protocol. I respect that. We'll leave it at that."

Roster moves: The Bears on Tuesday placed defensive end Willie Young on injured reserve and re-signed defensive end Austen Lane, who spent the preseason with the team.

Young, who leads the Bears with a career-high 10 sacks, sustained a torn Achilles' tendon in Sunday's loss to the Lions.