With Bears quarterback Jay Cutler headed to the bench, replacement Jimmy Clausen will make his first NFL start Sunday against the Lions since 2010 when he was a rookie with the Panthers.
Clausen started 10 games that season after being selected by Carolina in the second round of the draft. But he's been primarily a spectator ever since, serving as Cam Newton's backup in 2011-12 before missing all of last season with a shoulder injury he sustained in the preseason finale.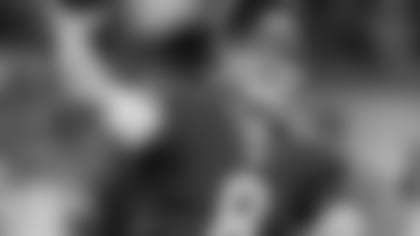 Jimmy Clausen is slated to make his first NFL start since 2010 when he was a rookie with the Panthers.
"It was a tough four years going through that whole entire transition and being hurt last year and rehabbing every day on my shoulder," Clausen said. "It's just a great opportunity for me. A lot of people don't get second chances to showcase their talent in the National Football League."
Clausen knows that he'll face a difficult task Sunday against a Lions defense that has allowed the fewest points in the NFL (238) and ranks second in total yards (300.3).
"I was excited obviously to get this opportunity to play against the No. 1 [scoring] defense in the NFL right now," Clausen said. "As soon as I heard, I just started preparing and watching tape, just like I've done the whole entire season."
After signing with the Bears June 5, Clausen completed 24 of 37 passes for 280 yards with two touchdowns, one interception and a 94.4 passer rating in three preseason games. He's served as the team's No. 2 quarterback all season, seeing limited action late in three blowout losses.
"The best part about him as a backup quarterback is he's been preparing himself to be a starter this entire season since he's gotten here because he knew he was one snap away," said offensive coordinator Aaron Kromer.
"It's not like he's new to the game plans or he doesn't know what to do or he hasn't been practicing. He's been practicing all along. He's worked at the game plans. He's studied the protections. He's studied the routes. From all we know he understands it very well."
On paper, Sunday's matchup certainly favors the Lions over the inexperienced quarterback. But that doesn't mean that Clausen doesn't believe in himself.  
"I have high expectations," he said. "Every time I go out on the field I'm going to have higher expectations than anybody else, whether it's coaches or media or whoever it is. I have really high expectations for myself.
"That's what I'm trying to do right now is just prepare myself so I can go out there and play at the level that I want to and play with the speed that I want to."
Clausen appreciates Cutler helping him prepare for Sunday's game and insists that the quarterback change hasn't made things awkward between the two teammates.  
"We've had a great relationship since Day 1 when I came in," Clausen said. "Jay's been great with me, helping me, and that's what he's doing right now, too."
Clausen knows that Sunday's game will serve as a personal audition for not only the Bears but every other team in the NFL.
"Basically, any time you step foot on the field, whether it's preseason games or whether it's regular season games, it's an opportunity for you to showcase your talent, whether it's to stay here or the 31 other teams in the league," Clausen said. "That's just what I've been taught since I stepped foot into the league and I started playing football."