Jimmy Clausen ultimately hopes to compete for the Bears' backup quarterback position. But with OTAs wrapping up Thursday, his main focus remains on learning the offense.
Clausen signed with the Bears last Thursday after spending his first four NFL seasons with the Carolina Panthers. The former Notre Dame star has not appeared in a regular season game since his rookie year in 2010 and missed all of the 2013 campaign with a shoulder injury.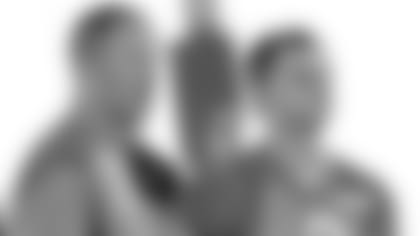 Jimmy Clausen watches practice next to offensive coordinator Aaron Kromer.
"Competition brings out the best in people," Clausen said. "I'm looking forward to competing. But the only way I can compete is if I learn the offense. So I've just got to keep speeding that up and each day come in and work hard and get the offense down."
Clausen likes the system and has enjoyed working with starting quarterback Jay Cutler, head coach Marc Trestman, offensive coordinator Aaron Kromer and quarterbacks coach Matt Cavanaugh.
"It's a West Coast system; I think that fits me well," Clausen said. "The coaching staff is great; a lot of experience. Jay's had a lot of experience. The quarterback room is just a real smart room. I'm trying to learn as much as I can from them and get caught up to speed."
Clausen has taken limited reps in OTA practices this week, even with Jordan Palmer sidelined due to a strained pectoral muscle. Palmer, who is considered the leading candidate for the backup position, is expected to return to action for next week's mandatory three-day minicamp.
Clausen, meanwhile, is trying to transfer what he's being taught in the classroom onto the field.
"In the meeting room, it's more learning the playbook," Clausen said. "But out here on the field there are some different things that I'm trying to get down and coach 'Cav' has been helping me out and the quarterbacks. For me, just watching Jay and how he does things—how he goes through practice, his drops, his footwork, whether it's handoffs or in the pass game—is really helping me."
Having joined the Bears last week, Clausen understands that he's at a disadvantage competing with teammates who have been with the team longer. But he also knows that's life in the NFL.
"If you're a free agent, you're going to be thrown into a situation where you have to learn faster to get up to speed so you can compete," Clausen said. "That's a big challenge for me. But the quarterbacks are helping me out a lot. The coaching staff is doing a great job helping me just trying to get me up to speed as soon as possible."
Clausen is relieved to finally be healthy. Last summer he tore the labrum in his right shoulder in the Panthers' preseason finale and was placed on injured reserve. He underwent surgery Sept. 11, went through an extensive rehab and returned to Notre Dame to earn his degree.
"My body is probably the best it's felt since going into my junior year of college before I hurt my toe," Clausen said.
With a healthy shoulder, Clausen hopes to make the most of his chance with the Bears.
"That's how everything works in life; right place at the right time," he said. "Everything is about timing and opportunities. And when you get that opportunity, you've got to flourish. I've been working hard, trying to get my shoulder 100 percent from surgery and wait for my opportunity, and I have it now. I just have to keep grinding and keep competing."