With their offense continuing to struggle, the Bears will start Jimmy Clausen at quarterback in place of Jay Cutler Sunday when they host the Lions at Soldier Field.
Despite returning all 11 starters from a unit that set multiple team records last year, the offense has sputtered all season. Cutler has passed for 3,640 yards and his 66.1 completion percentage and 89.5 passer rating are career highs. But he leads the NFL with 18 interceptions and 24 turnovers.
"We're not playing well enough at the quarterback position," said coach Marc Trestman. "Maybe Jimmy can give us a spark. We're hopeful that he can."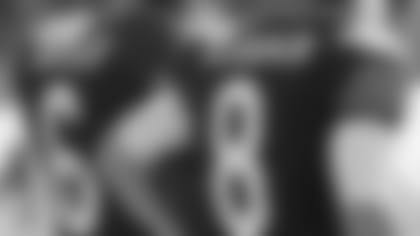 Jay Cutler will back up Jimmy Clausen Sunday when the Bears host the Detroit Lions at Soldier Field.
Cutler did not play well in Monday night's 31-15 loss to the Saints, completing just 9 of 19 passes for 87 yards and three interceptions through the first three quarters. Even after throwing two late touchdown passes after the game had already been decided, his 55.8 passer rating was his lowest of the season.
Trestman informed both quarterbacks about his decision Wednesday before speaking with his coaching staff later in the day and announcing it to the team early Thursday.
"Certainly it was not an easy decision," Trestman said. "In my mind those types of decisions never are. As I told our team today, this doesn't void us of our offensive struggles that we have or the team struggles that we have by making this change. And I think our guys are well aware of that. But for the present moment, I think this is in the best interest of our football team."
Trestman decided the time was right to make the move after the Bears were dominated from the outset of Monday night's game loss to the Saints in dropping their third straight to fall to 5-9.
"I felt it was the right time," Trestman said. "Last week I felt that we were not competitive until the end of the game. I felt there was a time that we needed to take a look at Jimmy, let Jay sit back and watch it and that was the decision that was made yesterday, ultimately last night."
Trestman said that Cutler will serve as Clausen's backup against the Lions and the situation could change the following Sunday when the Bears close the season versus the Vikings in Minnesota.
"This is for this week," Trestman said. "We're not going any farther than our preparation for Detroit. It's a short week. Jimmy had a full day of practice. He'll get another tomorrow and he'll be our quarterback on Sunday to start the game."
Trestman denied that Cutler's demotion had anything to do with his attitude or demeanor.
"This is performance-based only," Trestman said. "We're not getting enough out of our quarterback right now. We didn't this past week and we haven't. That starts with me. It has nothing to do with attitude. Jay has been extremely professional throughout, including after we talked yesterday."
Clausen, 27, signed with the Bears June 5 and beat out Jordan Palmer for the backup position. In three preseason games, Clausen completed 24 of 37 passes for 280 yards with two touchdowns, one interception and a 94.4 passer rating.
During the regular season, Clausen has replaced Cutler late in three blowout losses—two against the Packers and one versus the Patriots—completing 3 of 9 passes for 42 yards and a 49.3 rating.
Prior to this year, Clausen had played in 13 NFL games—all in 2010 during his rookie season with the Carolina Panthers when he went 1-9 as a starter. He completed 157 of 299 passes for 1,558 yards with three TDs, nine interceptions and a 58.4 passer rating while being sacked 33 times.
Clausen was selected by the Panthers in the second round of the 2010 draft out of Notre Dame. He served as Cam Newton's backup in 2011-12 and sat out last season with a shoulder injury.
"I think we need a lift at quarterback. I think we need a spark," Trestman said. "The weight of the world should not be on Jimmy Clausen. He's going to get an opportunity to play and I'm hoping that against a very, very good defense there will be some response from our football team."