Jimmy Clausen excelled in Monday's practice in Bourbonnais, delivering several pinpoint passes, highlighted by a touchdown strike to receiver Micheal Spurlock in a two-minute drill.
Operating the second-team offense, Clausen showed arm strength and accuracy in rifling the ball down the left sideline to Spurlock, splitting two defenders.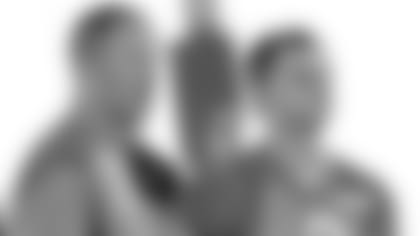 Jimmy Clausen watches practice with Bears offensive coordinator Aaron Kromer.
Plays like that no doubt will help Clausen's cause as he battles for the Bears' backup quarterback position with Jordan Palmer and David Fales behind Jay Cutler.

"That's what you want to do; go out and show them what you're capable of doing," Clausen said. "Micheal ran a great route, coach called a great play, and that's what you've got to do out there."

Clausen signed a one-year contract with the Bears June 5 and participated in the final two weeks of the team's offseason program. While Palmer is being given the first opportunity to win the backup job, Clausen is very much in the mix—even if he doesn't worry about his spot on the depth chart.

"I'm just trying to go out each and every day and work on my craft and try and help this team win games once the season comes around or even in the preseason," Clausen said. "I still have a long way to go, learning the offense and taking what I learned out onto the field each and every day."

Clausen signed with the Bears after spending his first four NFL seasons with the Panthers. The former Notre Dame star has not appeared in a regular-season game since his rookie year in 2010 and missed all of the 2013 campaign with a shoulder injury that required surgery.

As he continues to digest the Bears offense, the greatest challenge for Clausen is learning the verbiage.

"The biggest thing is the terminology," he said. "The concepts are the same concepts we've been learning since high school, but the terminology is totally different.

"Being in Carolina for four years and having one play called there that's the same exact concept here but it's different terminology, it was tough getting used to that. But I'm working every day to keep improving on spitting out the play calls and all the terminology. I'm trying to go out there and play fast."

Clausen is grateful to Cutler for helping him learn the offense from Day 1.

"I think I signed on a Thursday and I was in there with him on Friday morning," Clausen said. "He helped tremendously with things that I need to know right away, instead of just trying to go through the entire playbook. He helped a whole lot, picking up formations and protections, and just giving me little tips here and there."