If Jimmy Clausen starts in place of the injured Jay Cutler Sunday in Seattle, the Bears backup quarterback no doubt will be well-prepared for the assignment.
While Cutler has not yet been ruled out of the game, Clausen took first-team reps in practice Wednesday and Thursday, working closely with offensive coordinator Adam Gase and quarterbacks coach Dowell Loggains.
"The communication between the both of us and Dowell I think has been a lot better this week," Clausen said. "When Jay's starting, he's getting most of the communication with Adam and Adam hasn't really spent as much time with me. But this week has been pretty good as far as my communication with both of them."
Cutler exited last Sunday's loss to the Cardinals late in the second quarter with a hamstring injury he suffered while trying to make a tackle on an interception return touchdown. Cutler did not practice Wednesday or Thursday, but remains in the mix for Seattle.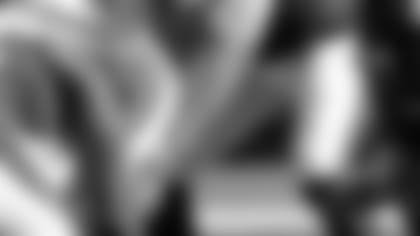 Jimmy Clausen was 14 of 23 for 121 yards against the Cardinals in Week 2.
"We'll wait and see what's going on," Gase said. "We'll see where Jay is at and see what ends up happening on Sunday. I'm waiting for [coach John Fox] to give me the green light one way or another. The good news is our offense is very fluid. We're able to make adjustments very quickly. So we'll just want to see what happens."
After practicing with the No. 1 offense this week, Clausen should be better prepared to play against the Seahawks than he was coming off the bench versus the Cardinals.
Clausen failed to lead the Bears to a touchdown on nine possessions, completing 14 of 23 passes for 121 yards with one interception and a 56.6 passer rating. Trailing 28-14 late in the first half, the Bears were forced to settle for Robbie Gould field goals of 40 and 23 yards after taking over at the Arizona 22 and 12 following takeaways.
On Thursday, Gase took the blame for Clausen's lack of success against the Cardinals.
"I was more disappointed in the play-calling," Gase said. "I thought I did a poor job of putting those guys in a good position. After going back and watching the tape and evaluating that I feel like I could have put Jimmy in some better spots. My biggest criticism was I should have done a better job as far as putting our players in a better position."
Clausen played for Fox with the Panthers in 2010 after being selected by Carolina in the second round of the draft out of Notre Dame. While Clausen posted a 1-9 record as a rookie starter, he's convinced that he's now a completely different quarterback.
"I feel way more comfortable now," Clausen said. "Being a rookie in the NFL is tough at any position, but going back to my Carolina days when I was a rookie, not being healthy didn't help at all. But I've learned so much since then and I've grown in so many ways possible."
Clausen showed some of that growth last season when he made his first start since 2010. In a Week 16 loss to the Lions, he completed 23 of 39 passes for 181 yards with two touchdowns, one interception and a 77.0 passer rating. Clausen suffered a concussion that prevented him from starting the season finale, but he learned a valuable lesson in the game.
"I can't make too many plays if I have the ball in my hands," Clausen said. "I've got to distribute it to the running backs, tight ends and receivers, and just get those guys the ball in space and let them make plays."
Gase has been impressed with how quickly Clausen has grasped the new offense and listed intelligence, leadership and competitiveness as the quarterback's biggest strengths.
"His intelligence is off the charts and his attention to detail, he's done a really good job of making sure he's on the same page as other guys anytime he's had an opportunity to go in there," Gase said.
"Preseason he was impressive. You're playing with a bunch of guys that probably aren't going to make the team and he got some of those guys caught up very quick. A couple of those guys ended up making our team and a lot of the reason is because he helped them out."