All eyes in training camp no doubt will be on Jay Cutler and the Bears' explosive No. 1 offense. But Jimmy Clausen will also bear watching as he battles for a backup quarterback position.
Clausen signed a one-year contract with the Bears June 5 and participated in the final two weeks of the team's offseason program, concluding with a mandatory minicamp June 17-19.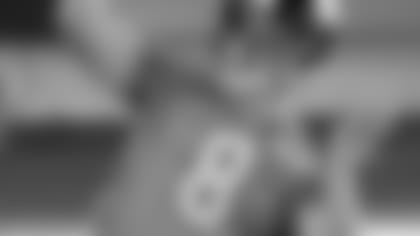 Jimmy Clausen
"It's always tough when you get into a new system late and you're trying to learn the verbiage," said quarterbacks coach Matt Cavanaugh. "Because he has some years in the league, I don't think there are any schemes we're running that he is not familiar with.
"But it's [about] being able to communicate it and say it, hear and call it real quickly, get in the huddle and say it and honestly he is a smart guy and he's caught up really fast so he is doing well. He's gotten a few more reps each day and I am pleased with the progress."
Clausen joins the Bears after spending his first four NFL seasons with the Carolina Panthers. The former Notre Dame star has not appeared in a regular season game since his rookie year in 2010 and missed all of the 2013 campaign with a shoulder injury that required surgery.
"If you didn't tell me he didn't have surgery, I wouldn't know," said offensive coordinator Aaron Kromer. "He appears to be throwing the ball with enough velocity to complete passes."
The challenge for Clausen in training camp will continue to be digesting the playbook.
"Jimmy Clausen has come in and absorbed a lot of the offense in a short period of time," Kromer said. "I wouldn't say that he has it mastered by any means at this point. He has a long way to go in that fashion. For him, it's basically taking a lot of our plays and learning Spanish because it's a new terminology to run plays that he knows from different teams.
"As he continues to translate what our words mean by pictures, and then putting them together, the quicker he'll learn. He's done a good job. He's in a tough position to have it all mastered. He missed a lot of the introductory meetings that we had prior to OTAs."
In training camp, Clausen will compete for the No. 2 spot behind Cutler with veteran backup Jordan Palmer and rookie sixth-round draft pick David Fales.
Asked what he looks for in a backup, Cutler said: "All those guys in the room understand what the role is as a backup. Sometimes you have to be a go-between guy. Sometimes you have to be a guy that says, 'Hey, you're doing it wrong. This guy's open. You messed it up.'
"Sometimes you've just got to let the starter vent and just listen to him moan and go on about stuff. But you also have got to be ready to go, so he's got to spend some extra time figuring out what happens if he goes in because he's not going to get the reps. It's a tough position. It's a really hard position to be in."
Cutler has followed Clausen's career since college.
"I watched Jimmy when he was at Notre Dame; liked him," Cutler said. "He was in a tough situation out there in Carolina. The offensive line was pretty rough; he was getting hit a lot.
"He throws the ball well. Once he did get here, he was in the quarterback room over the weekend three straight days grinding away, trying to figure out this offense. He was peppering me and David Fales, 'Cav,' with all questions. So he's been working hard.
"I think he likes the opportunity he has here. He's a little bit humbled going through the experience of being on the street and getting picked up again. He's got a good attitude. Training camp and preseason, we'll see how it works out."