INDIANAPOLIS – Some have questioned Jadeveon Clowney's work ethic and desire, but the South Carolina defensive end will never be accused of not setting lofty enough goals.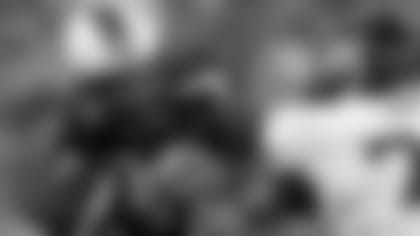 South Carolina defensive end Jadeveon Clowney ran an unofficial 4.47 in the 40 at the NFL Combine.
During his media session at the NFL Combine, Clowney told reporters that he was striving to become not only the No. 1 pick in the draft but one of the greatest players in NFL history.
"I just want to be the best, one of the greatest of all time," Clowney said. "Coming out of high school I said I wanted to be one of the best in college and I think I proved that. Going into the NFL, I want to be one of the best in the NFL, go down in history as one of the best."
In their mock drafts, NFL.com analysts Bucky Brooks, Matt Smith, Daniel Jeremiah and Charles Davis all project that Clowney will be selected by the Houston Texans with the first overall pick.
"That's one of my goals here, to go No. 1," Clowney said. "I came out of high school as the No. 1 player, so I want to come out of here as the No. 1 guy."
Clowney has had mixed results in tests at the Combine. He put up only 21 reps in the bench press, but ran a blazing 4.47 in the 40-yard dash.
Clowney starred as a freshman in 2011, recording eight sacks, 12 tackles-for-loss and five forced fumbles. He then emerged as a superstar as a sophomore in 2012, recording 13 sacks and 23.5 TFLs. But Clowney produced only three sacks and 11.5 TFLs as a junior in 2013.
Asked to explain his decline in production, Clowney said: "Going into last season I had a lot of high expectations of myself. Things don't always happen like you plan on.
"There were a lot of ups and downs, but we won 11 games, were 11-2, won our bowl game, [and] finished No. 4 in the country for the first time in South Carolina history, so I was pretty excited about the season. I wasn't worried about my stats really. I just wanted to win."
Clowney revealed that he likely would have entered the draft following his sophomore season, but he was prevented from doing so by an NFL rule that requires prospects to be at least three years removed from high school.
"I came off a great season," Clowney said. "If there was a chance, I probably would have. But right now that's over with. I had to stay a third year and I did what I had to do; took care of my business with my team, helped them win games. I was excited that we won."
Clowney denied that he didn't perform as well last season because he was playing it safe and protecting his draft stock.
"It wasn't about that," Clowney said. "I was out there trying to help my team win games. I wasn't worried about draft stock. That will take care of itself. I was out there trying to make plays for my team no matter what it took."
Clowney also had to defend himself after South Carolina coach Steve Spurrier told NFL Network Wednesday that the star defensive end didn't work as hard as some of the team's other top players.
"I believe I did work hard," Clowney said. "You pull out any practice tape from last year, you'll see that. I'll tell everybody that. I will always be working hard. No matter where I end up, I am going to work hard and give a team everything I've got."