After being cleared by doctors, Bears linebacker Lance Briggs practiced without restrictions Friday and was listed as questionable for Sunday night's game in Philadelphia.
Briggs, who has missed the last seven games with a fractured shoulder he suffered Oct. 20 in a loss to the Redskins, worked out with the No. 1 defense for the third straight day.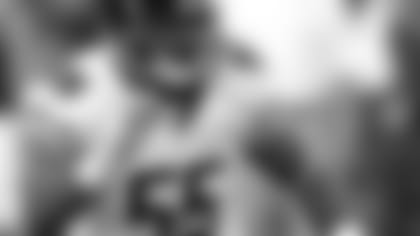 Bears linebacker Lance Briggs has missed the last seven games with a fractured shoulder.
Marc Trestman remains "very optimistic" that Briggs will play against the Eagles, but the Bears coach won't know for sure until the day of the game.
"We'll see where he is Sunday morning," Trestman said. "We'll see how he feels and where he's at, but he's been cleared. We'll list him as questionable up until game time. He'll work out before the game and we'll see where he's at.
"I wouldn't want to say that he's going to play, he's going to start. I think that's still 48 hours away. But certainly at the beginning of the week [I was] fully optimistic, [and I'm] even more now since he's been cleared by the doctors. But we'll see where that goes on Sunday night."
Briggs has been voted to seven Pro Bowls since being selected by the Bears in the third round of the 2003 draft. At the time of his injury, he topped the defense with 64 tackles and nine tackles-for-loss and was tied for the lead with two sacks and two forced fumbles.
"No. 1, he's an emotional leader," Trestman said. "He's a tremendous football player. He's been out of it for a while. There may be some rust, there may not be. We'll see how it goes. That's not the important thing. The important thing is he's going to impact our team in the huddle.
"He's a fiery leader. He's a great leader, and he's excited to play football again. Hopefully it'll work out where he can get some reps. How many, we don't know. But if he's up and he's ready to go, he'll certainly play and then we'll take it from there. We have no expectations. We just don't know. We'll see how it goes if and when he plays."
Receiver Brandon Marshall (quadriceps) also practiced without restrictions Friday after being limited for precautionary reasons Thursday and is expected to play Sunday night. Receiver Earl Bennett was excused from Friday's practice for personal reasons.