The following is the sixth of 12 stories featuring Bears coordinators and position coaches.
Offensive line coach Dave Magazu is new to the Bears, but he has a long history with head coach John Fox.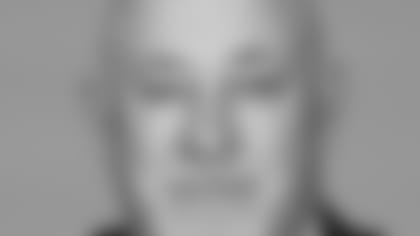 Magazu is entering his 13th straight season as a position coach under Fox, including the last nine tutoring the offensive line. Magazu coached tight ends with the Panthers from 2003-06 before moving to the line in Carolina (2007-10) and with the Broncos the past four seasons.
Prior to entering the NFL in 2003, Magazu spent 24 seasons coaching at the collegiate level. His last stop was at Boston College, where he served as offensive line coach from 1999-2002.
Magazu grew up in Massachusetts and attended Springfield College, where he roomed with Bears linebackers coach Glenn Pires. Magazu became a coach immediately after graduating.
"I was going to Springfield College with the intent of being either a physical therapist or an athletic trainer," Magazu said. "I thought that was going to keep me around football. But when you look at it, you're not [involved with] the fun parts of football. So I went in the coaching direction."
During Magazu's four years with the Broncos, they allowed the fewest sacks in the NFL (100). Denver yielded the fewest sacks in the league in 2014 (17) and 2013 (20) and the second-fewest in 2013 (21). Under Magazu's tutelage three different Denver offensive linemen were named to the Pro Bowl.
During Magazu's four seasons as Carolina's offensive line coach, the Panthers ranked fifth in rushing yards and fourth in yards per carry. In 2009, the Panthers became the first team in NFL history with two 1,100-yard rushers in Jonathan Stewart and DeAngelo Williams.
Asked about the most rewarding aspect of his job, Magazu said: "When you bring a group of guys together from an offensive line standpoint, building that relationship with those guys and just seeing the room and the group of guys gel together and become one."
Dealing with injuries is one of the most challenging parts of Magazu's job.
"It's staying healthy and having enough guys that if one guy drops the sword the next guy picks it up and you don't skip a beat," Magazu said. "I find that pretty rewarding and challenging."
Magazu likes to challenge veteran players by moving them around at practice both to prepare for various injury scenarios and also to keep their interest at a high level.
"You've got to know more than one position and try these things because sometimes for veteran guys it gets tedious," Magazu said. "There are different learning curves in your room. You've got eight-year veterans and rookies. You've got to find things to challenge different learning levels."
Magazu often shows his emotions, but he doesn't hold grudges against players.
"I feel like I get passionate and I blow up easy, but I forget quickly too," Magazu said. "Sometimes I'll [fly] off the handle and it's just for a moment. Sometimes different things get frustrating and it's really nobody's fault. But I do forget things quickly also because you've just got to move on.
"I don't know if I have a particular style. I try to be honest. It's pretty black and white. I try to stay out of those gray areas; make it so they know what you're asking for and most guys try to do what you ask."