The following is the ninth of 12 stories featuring Bears coordinators and position coaches.
New Bears linebackers coach Glenn Pires grew up in New Bedford, Mass., and began his coaching career in 1981 just outside Boston at Melrose High School, where he also taught science.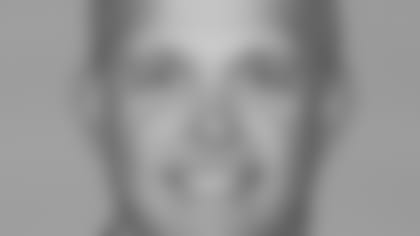 Glenn Pires
Pires knew he wanted to become a teacher and coach even before graduating high school. As a teenager, he spent his summers teaching swimming and working as a lifeguard.
The Springfield College graduate later worked as an assistant coach at Syracuse (1983-84 and 1989-94), Dartmouth (1985-88) and Michigan State (1995). He then entered the NFL, serving as linebackers coach with the Arizona Cardinals (1996-2000) and Detroit Lions (2001-02).
Pires then spent five seasons with the Miami Dolphins as assistant defensive line coach (2003-04), defensive quality control coach (2005-06) and assistant linebackers coach (2007). During that span he worked with Pro Bowlers Zach Thomas, Joey Porter, Jason Taylor and Adewale Ogunleye.
Pires spent the last seven years as the Atlanta Falcons linebackers coach. In 2012, starting linebackers Sean Weatherspoon, Stephen Nicholas and Akeem Dent combined to record 309 tackles, 16 tackles-for-loss, 10 pass breakups, five sacks, two interceptions, two forced fumbles and two fumble recoveries.
To Pires, his greatest challenge as a coach is developing young players while also helping veterans continue to improve.
"Those are the two things that I always am excited about," Pires said. "When I first came into the league I had guys that had won Super Bowls and went to Pro Bowls, and then you have a young free agent who's from a Division II school. So balancing the development of the young guy with getting the [veteran] to continue to play at a high level is what I enjoy."
Pires is particularly proud of the work he did with Cardinals linebacker Ronald McKinnon, an undrafted free agent from North Alabama.
"One of my greatest satisfactions in coaching was a Division II player that nobody wanted and nobody signed and ended up playing [10] years in the NFL," Pires said.
McKinnon's success generated the same type of pride in Pires that he felt as a prep coach.
"I had as much satisfaction coaching in high school and watching those guys play for the state championship and seeing them be successful afterwards as I've had in the NFL and being around guys that have been in the Pro Bowl," Pires said.
As he begins his career with the Bears, Pires is excited about joining such a storied franchise.
"The tradition of this team is always something that's been very appealing to any coach, especially me," Pires said. "The Midwest and the Chicago Bears, that's where it's at. The tradition of linebackers for the Chicago Bears, the tradition of what they've upheld in the history of the NFL, that's a great challenge I'm looking forward to [maintaining]."