The following is the eighth of 12 stories featuring Bears coordinators and position coaches.
Defensive line coach Jay Rodgers joins the Bears after spending the last six seasons as an assistant with the Denver Broncos, including the last three as defensive line coach under new Bears coach John Fox.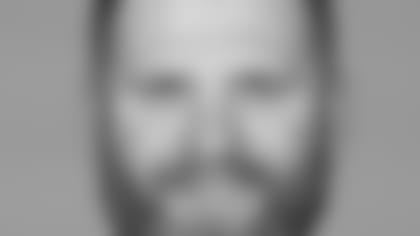 Jay Rodgers
Over the last three seasons the Broncos led the NFL in rushing defense (90.8 yards per game) and were fourth in the league with 134 sacks.
In 2014, Denver ranked second against the run (79.8 yards) and allowed the second fewest runs of 10 yards or more with 29. In Rodgers' first year as Denver's defensive line coach in 2012, the Broncos tied for the NFL lead with 52 sacks and ranked third against the run.
Rodgers served as a coaching assistant (2009-10) and defensive quality control coach (2011) with the Broncos before being promoted to defensive line coach.
Prior to entering the NFL, Rodgers spent nine seasons coaching at the collegiate level. The Austin, Texas, native played quarterback at Indiana (1996-98) and Missouri State (1999) and is the older brother of new Bears special teams coordinator Jeff Rodgers. A third brother, Jonny, works in real estate.
The Rodgers brothers grew up around college football given that their father, Randy, was a long-time coach and recruiting coordinator, including stints of six seasons at Texas and four years at Illinois.
"We come from a coaching background, so we were always at practice," Jay said. "We're all one year apart. I'm the oldest, Jeff's one year younger than me and Jonny is one year younger than him. So we had instant play partners whatever we did. We were so close and competitive and grew up playing sports and watching football practices. Our mom would bring us to practice and we'd play in the sandbox at the long jump pit."
Jay knew he wanted to become a coach before he graduated from high school.
"Once I started playing at a higher level than just Pop Warner I realized I really liked [football] and wanted to know more about it," he said. "So going into college I wanted to learn as much football as I possibly could from the coaches that I was playing for."
Rodgers has enjoyed coaching since Day 1.
"I love the strategy of football," he said. "I love being able to teach something to someone and have them execute it perfectly and have it work for our team. And then when I was at the college level and you had kids that were away from home for the first time, I liked kind of being a father figure to some of those kids. In pro football, you just get more in-depth with what the game is because you're not doing some of the other stuff that you're doing in college."
After spending the last six seasons with the Broncos, Rodgers is excited about joining the Bears.
"This is a tremendous organization with great tradition," he said. "The people here love the Bears and sports in Chicago, and I feel that enthusiasm every day. Being a part of the great history here and having a chance to get this team back on track with coach Fox to a place they haven't been to in 30 years, that's what's exciting for me."