The following is the fourth of 12 stories featuring Bears coordinators and position coaches.
After serving as Bears receivers coach the past two seasons under Marc Trestman, Mike Groh returns in that role on new coach John Fox's staff in Chicago.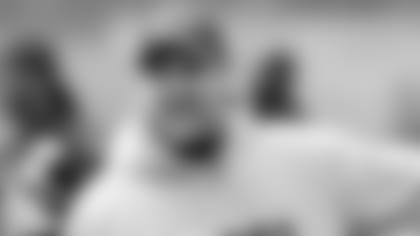 Mike Groh
The only position coach from the previous staff to be retained in the same job, Groh is excited about the opportunity to remain with the team and work with the new regime.
"It's a tremendous organization," Groh said. "It's a class organization. People make the organization. It starts with the leadership at the top with the McCaskey family and [president/CEO] Ted [Phillips] and everybody else who's involved from a front office standpoint.
"I'm excited to be a part of this new staff and the direction coach Fox and [general manager] Ryan Pace are leading this football team and to be in this system under [offensive coordinator] Adam Gase's direction and to be able to coach good players. I'm tremendously excited about the future of the Chicago Bears and what we can do."
Under Groh, the Bears have had three 1,000-yard receiving seasons with Alshon Jeffery reaching that plateau in both 2013 (1,421) and 2014 (1,133) and Brandon Marshall in 2013 (1,295). Over the last two seasons, Jeffery is fifth in the NFL in receiving yards (2,554), ninth in receptions (174) and tied for ninth in receiving touchdowns (17).
Prior to joining the Bears, Groh helped Alabama win three national championships in two stints, first as a graduate assistant in 2009 and then as receivers coach and recruiting coordinator in 2011 and 2012 after spending 2010 as quarterbacks coach at Louisville.
Groh was Virginia's starting quarterback in 1994-95 and is the only signal-caller in school history to lead the Cavaliers to nine wins and a bowl victory in consecutive seasons.
Groh began his coaching career in 2000 as an offensive quality control assistant with the New York Jets. He then returned to Virginia, where he coached from 2001-08, first working with receivers and quarterbacks before spending three seasons as offensive coordinator.
With both the Jets and at Virginia, Groh worked on staffs headed by his father, Al, a longtime coach who most recently served as Georgia Tech's defensive coordinator from 2010-12.
"He certainly is most responsible for influencing me in terms of wanting to be a coach," Groh said. "I'm very thankful that he was willing to give me a spot on his staff and to be able to work for him for nine years was a lot of fun."
When Groh was between the ages of nine and 15, his father was head coach at Wake Forest.
"It was awesome growing up," Mike said. "Just being able to be so close to campus and go to practice every day and hang around the players and go on the road trips, go recruiting with my dad, it's a childhood that a lot of kids wish they could have. I was fortunate to be able to have access to a team like that. It was a lot of fun."
Asked what he admired most about his father as a coach, Groh said: "His attention to detail is tremendous and his awareness on all sides of the ball and certainly his dedication to the game and to the team and to whatever it took to win. His work ethic is unmatched."
To Groh, the most rewarding aspect of his job is helping players get better.
"It doesn't matter who you're coaching on the roster, when you watch that guy improve—whether he has Pro Bowl ability or not—if I can help him be the very best player he can be, that's fun for me," Groh said. "I love teaching, I love being in front of the room to teach these guys; help them get it, tell them the reasons why and help them understand it."