The following is the first of 12 stories featuring Bears coordinators and position coaches.
As an undergraduate student at Michigan State, Bears offensive coordinator Adam Gase fell in love with coaching while working with Nick Saban and his staff.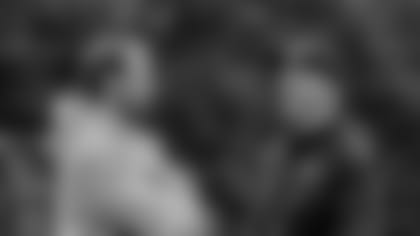 Adam Gase and John Fox
"I really enjoyed being around it and it was kind of becoming an obsession of mine," Gase said. "The great thing was there were a lot of good guys that were letting me help and the coaches would give me a lot of work to do, so I was able to grow through four years. It was almost like an undergraduate [program] for learning all the ins and outs of coaching."
Gase knew he had found his life's work in part because the long hours he was working flew by. It's one reason he later declined an opportunity to become an insurance salesman.
"It didn't feel like a lot of hours," Gase said. "Things went fast. I enjoyed the chess match of it, the preparation and the detail of breaking things down and trying to figure out what the other team was doing."
In 2000, Gase headed to LSU with Saban, serving as a graduate and recruiting assistant through 2002. Gase then entered the NFL with the Detroit Lions, working as a scouting assistant (2003-04), offensive assistant (2005-06) and quarterbacks coach (2007).
After one season as an offensive assistant with the San Francisco 49ers in 2008, Gase was hired by the Denver Broncos, serving as receivers coach (2009-10), quarterbacks coach (2011-12) and offensive coordinator (2013-14). He spent the last four years in Denver working under Bears coach John Fox.
With Gase coordinating an offense that featured star quarterback Peyton Manning, the Broncos set an NFL record with 606 points en route to a Super Bowl appearance in 2013 and scored 486 points in winning their fourth straight division title in 2014, the third most in franchise history.
In Gase's first year as offensive coordinator in 2013, the Broncos set NFL records with 76 touchdowns and five players with at least 10 TDs. Manning earned his fifth MVP award after setting league passing marks with 5,477 yards and 55 touchdowns. Manning, tight end Julius Thomas, receiver Demaryius Thomas and guard Louis Vasquez all were voted to the Pro Bowl.
The 2013 Broncos became the first NFL team in 45 years to top 50 points in three games and they led the league in scoring by 10.1 points per game, the largest margin since the 1941 Bears (12.5).
In 2012, Gase served as quarterbacks coach when Manning was named NFL Comeback Player of the Year and first-team All-Pro after passing for 4,659 yards and 37 TDs and helping the Broncos rank second in scoring and fourth in total yards.
In 2011, Gase coached Tim Tebow, who started the final 11 games of the season, passing for 12 touchdowns and rushing for 660 yards, a team record for quarterbacks. Tebow helped the Broncos lead the NFL in rushing after they averaged 193 yards on the ground in his 11 starts.
To Gase, the most rewarding aspect of his job is helping players improve and working with great coaches.
"It's a fun atmosphere," he said. "You spend a lot of time with each other and when you have success it's a lot of fun. You work so hard and you almost forget to enjoy it sometimes because everything moves so fast and every week is so big. But when things are going good it's a really fun experience."
In joining the Bears, Gase is excited about leading a group of hard workers on offense.
"Just watching us practice since April or May and just seeing these guys get better and grasp the offense and really put a lot of effort into what we're doing has been very impressive," Gase said.
"I've really enjoyed being around these guys and the attitude they have and the work ethic. I think it's hard to come by. In the NFL sometimes you'll have guys that don't work as hard as other guys and I feel that all these guys really try to work really hard, especially on the practice field."