The Bears on Tuesday honored running backs Tarik Cohen and Benny Cunningham as the 2017 winners of the prestigious Brian Piccolo Award during a ceremony at Halas Hall.
The honor has been given to a Bears rookie since 1970 and was expanded in 1992 to include a veteran. Bears players vote for teammates who best exemplify the courage, loyalty, teamwork, dedication and sense of humor of Brian Piccolo, a Bears running back who died from embryonal cell carcinoma on June 16, 1970 at the age of 26.
"It means a lot," Cohen told reporters after the ceremony in the PNC Center. "It just shows what my teammates think of me and that I'm really fitting in. That was my biggest worry coming into the NFL. You've been with a team for four years in college and then you're in a whole new setting, so to see that I'm fitting in well, it means a lot."
Selected by the Bears in the fourth round of last year's draft out of North Carolina A&T, Cohen had a breakout rookie season. He rushed for 370 yards and two touchdowns on 87 carries, caught 53 passes for 358 yards and one TD, averaged 9.4 yards with one touchdown on 29 punt returns, averaged 22.4 yards on 26 kickoff returns and even threw a touchdown pass.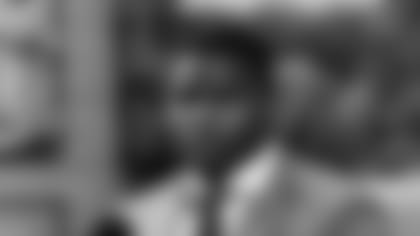 Running back Tarik Cohen speaks after receiving the Brian Piccolo Award.


In the process, Cohen became the first NFL rookie to generate a touchdown on a rush, reception, pass and punt return in a single season since Bears Hall of Famer Gale Sayers in 1965 and the first NFL player to do so since Terry Metcalf in 1975.
"It's a wonderful experience receiving this award," Cohen said during the ceremony. "It's good to know that cracking jokes on all my teammates is paying off now. It's just wonderful having that Piccolo name on the award. I've seen the movie ['Brian's Song'], heard great stories about him and I feel like that would have been one of my role models if I would have gotten to know him as a person because seeing the movie and hearing the characteristic traits that he had, I feel like I embody those as well, especially the sense of humor."
Cohen was thrilled to receive the award alongside Cunningham, one of the Bears' most respected veteran leaders.
"It means a lot," Cohen said. "It's like winning an award with your mentor, somebody who taught you what you know. Just him having me under his wing coming into the NFL, him teaching me the ins and outs of the NFL, what to do, all those types of things, it just goes to show what type of guy he is and that's why he won the award."
Cunningham appeared in 14 games last year in his first season with the Bears. The versatile 5-10, 217-pounder rushed for 29 yards on nine carries, caught 20 passes for 240 yards and two touchdowns—including a 38-yarder from Patrick O'Donnell on a fake punt against the Vikings—averaged 21.0 yards on seven kickoff returns and made six special teams tackles.
Last year Cunningham was the Bears nominee for the fourth annual Art Rooney Sportsmanship Award, which recognizes NFL players who exemplify outstanding sportsmanship on the field.
After being presented with the Piccolo Award Tuesday, Cunningham said: "I appreciate it. It's an honor and privilege to be able to represent my teammates with this award. I'd like to thank the Piccolo family for the mark that they left on this organization that will last forever."
After accepting the award, Cunningham looked at members of the Piccolo family and revealed that his father died of cancer when the running back was going into eighth grade.
"It touches me personally," Cunningham said. "I know what it can do to a family. But ultimately it made me stronger, a stronger man. I had to grow up early. But I [know] what it's like to lose someone you love."
Bears vice president Patrick McCaskey emceed Tuesday's ceremony. Coach Matt Nagy introduced running backs coach Charles London, who presented the awards to Cohen and Cunningham. Members of the Piccolo family in attendance included Joy Piccolo O'Connell, Brian Piccolo's widow, and two of their three daughters, Traci and Kristi.
Previous winners of the Piccolo Award who were on hand included Brian Baschnagel, Alex Brown, James Thornton and Mickey Pruitt. Two of Piccolo's former Bears teammates, Ralph Kurek and Bob Wetoska, were also in attendance.
Piccolo joined the Bears in 1965 as an undrafted free agent after leading the nation with 111 points and 1,044 yards rushing as a senior at Wake Forest. He was in his fourth NFL season when a chest x-ray revealed a malignancy. Piccolo passed away several months later.
Following his death, the Brian Piccolo Cancer Research Fund was established and proceeds were sent to the Sloan-Kettering Cancer Center in New York for research on embryonal cell carcinoma. At the time Piccolo died, the disease was 100 percent fatal, but today the cure rate is more than 95 percent.
With that victory, proceeds from the Brian Piccolo Cancer Research Fund now benefit breast cancer research at Rush Medical Center and provide support to the Clearbrook Center for the developmentally disabled in Arlington Heights.
Since turning its attention to the fight against breast cancer, the Brian Piccolo Cancer Research Fund, as well as all those who have joined in its efforts, have raised over $8 million for research since 1991. The fund remains active and welcomes contributions from others who share its commitment to breast cancer research and to Piccolo's memory.